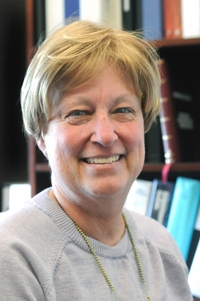 Jane Johnston
Jane Johnston started work at Argonne National Laboratory in June 2009, trading in a part-time teaching gig at a local community college for a full-time job funded by the Recovery Act. Johnston, and her husband Roger, first moved to the area in 2007 so he could accept a job as a senior systems engineer at the lab.
For Johnston, who was diagnosed last fall with breast cancer, work has been a relief in more ways than one. She said she found tremendous support in her colleagues. Not only have they helped fill-in for her during chemotherapy, but they boost her spirits as well, trading good-natured jokes about which wig she'll wear next. 
"I work with the most hilarious people," she said. "We have a new adventure together every day."
Johnston said her three children have also been a tremendous help. Though they live out of state, her son "would drop everything…to come be with me while my husband was on travel" and one of her two daughters returned home from abroad for two months to spend time with her mother.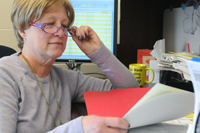 "My other daughter is a pharmacy tech and kept all of us informed as to what the meds were, how they would impact me and what to watch out for" Johnston said.
Johnston also has two horses and while she's unable to tend to them right now they too have brought her comfort.
"They make me laugh, humble me when I get too full of myself, share my troubles and sympathize with me" she said. "They're also forgiving and provide me with a wonderful feeling when a 1,000-pound animal does what I ask him or her to do." Johnston and her husband live on a three-acre parcel in Oswego with plenty of room for her beloved horses to graze.
While she still suffers from the aches and pains of her illness and its treatment, she has a very positive outlook and is grateful for the support of all of those around her, including her co-workers.
"They've been great," she said. "It's been a rough road, but everybody here has been so understanding."
Read more Recovery Act profiles from Argonne National Lab.