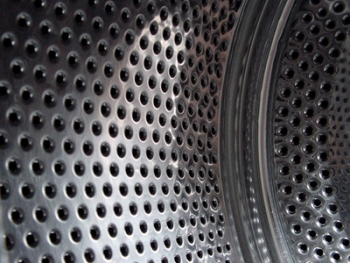 Mississippi's Cowboy Maloney stores saw increases of up to 90 percent on front-loading washing machines in April. | Photo courtesy of Flickr user Andrew Kelsall via the Creative Commons license
April 22 was more than just Earth Day for Cowboy Maloney's Electric City. The Jackson store—one of 12 Cowboy Maloney's across Mississippi—opened at midnight to celebrate Mississippi's appliance rebate program launch.
"We had several hundred people lined up outside the store to take advantage of the rebates right at midnight," says Ralph Flood, appliance buyer for Cowboy Maloney's.
"April 22 was the largest sales day ever in the appliance department," says Flood. "It was just incredible."
Recovery Act creating savings
The Mississippi appliance rebate program was granted approximately $2.8 million in Recovery Act funding—with more than $2.5 million going to appliance rebates for ENERGY STAR products. So far, the program has distributed 37,430 rebates ranging from $50 for a room air conditioner to $750 for a geothermal heat pump.
"We saw increases of up to 90 percent on front-loading washing machines in April," says Flood. "In continued in May, was at about 60 percent in June, 40 percent in July and 30 percent in August."
The chain—which was founded in Mississippi in1952— also saw up to a 60 percent increase in ENERGY STAR refrigerator sales, and the sales rate for dishwashers nearly doubled. The rebates, on top of Cowboy Maloney's additional 10 percent off ENERGY STAR appliances, saved Mississippians a huge chunk of change.
"These appliances are energy savers—the program helps individuals save on energy bills while upgrading their existing appliances with less economic impact on their family," says Karen Bishop of the Mississippi Development Authority, the organization that organized the program.
Educating retailers on energy efficiency
Bishop says the state worked with more than 250 retail partners across Mississippi to promote the program. In order to help inform retailers about requirements, the state held webinars with retailers. "We had great participation and interest from the retail community."
Flood says the support from the state was essential in making the program as successful as it was. Representatives from the program came to Jackson and spoke with Cowboy Maloney's sales staff about the appliance rebate program and ENERGY STAR products.
"If the staff didn't know it at the time, they know it now!" says Flood. "We attended webinars, had training and Q&A sessions. All of that combined really gave the sales staff a better knowledge of the program and energy appliances. Our staff is still pushing energy efficient appliances."
Once a resident purchased an appliance, they could apply for their rebate by phone or online. "We really tried to make this a painless process for both residents and retailers. When we developed the process, we tried to think through how this would work for consumers, and designed it to be as easy as possible," says Bishop.
Wrapping up a success
Bishop expects the program will wrap sometime this fall. "We're working to process the remaining waiting list applications and will close out the program as soon as all funds are expended."
The program opened on April 22 and by June 20, the majority of funds were reserved. After distributing funds, the program reopened in September with $400,000 left over from the first launch, and by September 20, funds were depleted.
"We planned the September relaunch around Labor Day, when stores would have sales and increased foot traffic anyway. It was a great economic stir for retailers," says Bishop.