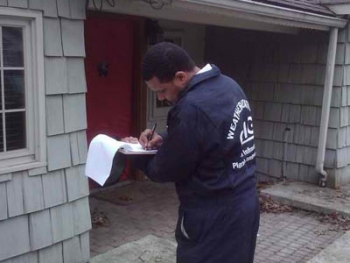 Most Catalyst Management Group employees had no previous experience with weatherization. | Photo by CMG
Leon Brown, an engineer by trade, started his career as a manufacturing engineer in the automobile industry in Detroit. After earning his master in business administration, and with the decline of jobs in the automobile industry, he decided to take a part-time contracting business and go fulltime toward a new industry he felt had great potential in the metro Detroit area: weatherization.
Brown now owns and operates Catalyst Management Group, a small, all-minority firm based in Pontiac, Mich.
And as his business grows, Brown sees another opportunity – for potential employees.
CMG's employees come from non-traditional energy backgrounds—most have little or no weatherization experience—but have one thing in common: the ability to be cross trained quickly. Like Brown's transition to contracting from the automotive industry, he's looking for employees who will adapt and use their knowledge to master new skills.
"We're actively interested in promoting and assisting folks to make a transition from non-energy jobs," says Brown. 
"It's not held against our applicants that they don't know anything about weatherization. Weatherization is a great way to stimulate job growth and develop niche areas where people can specialize," he notes.
Beating the learning curve
Brown's goal is to train employees to be experts – and to be marketable should they decide to leave CMG.
"We're a small organization, but we've identified a process that will slowly but surely hone in on making it more efficient to get these individuals a job," says Brown. CMG is a registered Small Business and Disadvantaged Organization with the U.S. Small Business Administration, and a participant in the U.S. Small Business Administration's HUBZone Empowerment Contracting Program—a program that works to stimulate economic development and job creation in areas historically underutilized business zones around the country.
The firm currently has four salaried employees and six hourly individuals making Davis Bacon Weatherization Wages up to $16 an hour.  New team members go through weatherization training, including courses required for national certification. To support a working education, each employee is paired with a seasoned carpenter or laborer, who acts as a mentor.
Brown says that there's definitely a great deal to learn for someone new to the expanding trade.
"We communicate to contract operators and employees that this is a continuous improvement initiative. There's a learning curve associated with that, for sure," he notes.
Growing industry creates growing demand
Brown plans to continue to grow the commercial and residential green energy retrofitting and auditing business in the coming year, including adding between three to six employees in the next few months, potentially growing the company by 50 percent. CMG's goal is to provide its commercial and residential clients with preventative maintenance tools, energy efficiency principles and fundamental building system retrofits via equipment and utility optimization."If each quarter I could bring on a few more guys, as demand for weatherization increases, we'll be able to say we've done our part."
Although CMG acquires some residential retrofit contracts on their own, the firm also works with Oakland Livingston Human Service Agency to do Recovery Act funded weatherization.  OLHSA received more than $5 million via the Recovery Act to do income eligible residential energy optimization in the metro Detroit area.
Working weatherization
CMG employees perform pressure tests on homes, identify air leaks and assist in determining which measures will work best to improve the home's energy efficiency in the field.
The team then does everything from weather stripping to foundation insulation to ensure the home's leaks are sealed.
"We track our improvements by the number of homes we've worked on," says Brown. "We can see a trend of how much people are saving with these results."
CMG recently secured a contract to begin working on HUD sponsored multifamily units, including a 200-unit senior apartment building.
"This is a really important opportunity to change not only our communities but to assist and improve the consumption of energy across Michigan."