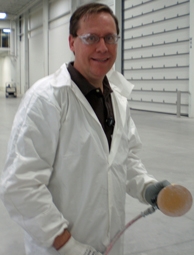 Tom Bos is one of nine employees hired at wind turbine blade manufacturer Energetx Composites from the first class of students to graduate from Grand Rapids Community College's composites technician course. | Photo courtesy Energetx
Tom Bos has found a new profession.
Bos was laid off after 20 years in a small company office environment. He spent 14 months looking for a job, before seeing an ad in the local paper about Grand Rapids Community College's new composites training course. The course was developed through a partnership with Energetx Composites, a Holland, Mich.-based wind turbine blade manufacturer.
A friend who worked at Tiara Yachts — Energetx's sister company — told Bos about how Energetx was hiring people with composites training for positions in wind turbine blade manufacturing.
Bos signed up and today works for Energetx as a composites technician.
Graduating from a four-week community college course is earning Michigan residents like Bos more than a piece of paper. For many, the course is resulting in a new job in an interesting field.
Hands-on job training
Energetx Composites, which received a Recovery Act grant, expects to grow from 23 to about 160 employees by next summer. The company is meeting some of its hiring needs through the training partnership with Grand Rapids Community College. Already, the company has hired nine graduates from the first class — taught on-site at the Energetx plant — that ended April 1.
"I find working at Energetx really interesting," says Bos. "The class was a good thing for me personally because if you walked into the factory without that knowledge and someone tried to tell you what to do, you couldn't do it. These are big parts we're working on, sometimes with five other people at once doing different pieces of a project. So I'm glad it was all part of the course."
There are no guarantees that students will be hired at Energetx or any of the other composites manufacturers in Michigan, but the college has an average rate of almost 90 percent for job placement.
"Getting people who have cooperation and communication skills ahead of starting the job is very important," Steve Busch, human resources director at Energetx, says. "When managers can't be present to offer help, having people like Tom who take initiative and work with their team is a strong quality — we automatically have these employees coming in from this class who have given a certain level of commitment to the field, which is great."
Each class is split into half classroom time and half hands-on, with about 20 students present for the 80 hours of instruction that GRCC plans to run monthly for now. The composites class begins with an introduction to the industry and covers topics such as quality parts production and the metric system, but it also focuses heavily on communication skills and teamwork.
The course culminates with an exam, administered by Paul Dickensheets, GRCC's composites instructor.
"At the end, they take an exam where we give students molds and materials with a description of the product, and they have to figure out how to make that part successfully," he says. "This, along with other criteria, decides if they pass course."
Industry, education working together
Julie Parks, the director of workforce training at GRCC, says the top priority of the courses there are to ensure students have entry-level proficiency in their respective industries. While about 60 percent of the students pay for the courses themselves, others use military benefits or the Michigan Works! program, where participants can get approved to have the entire cost of the training paid for through the state.
But it's the public-private partnerships with companies like Energetx that have been instrumental in offering some of the classes.
"The whole composites training project has been a great public-private partnership because Energetx helps the college with materials and technical assistance we'd never be able to afford otherwise, and they are so open to letting us see their processes and learn along the way," she says. "To have that expertise here and to be able to know what's happening right now in the industry is invaluable to an educational institution, and it's something we couldn't do alone."
Busch feels the same way, saying it'd be tougher for his company to find the amount of workers it needs during this time of growth without the community college's help.
"It would be very difficult without them because it's a skill set that doesn't generally exist in the manufacturing base in western Michigan," he says. "We're known for strong manufacturing and engineering, but a lot of that traditionally comes out of metallurgy and not from composites."
Parks says GRCC has more job training plans evolving with green companies such as Energetx all across Michigan.
"We go out and find what types of employees companies need and tailor training programs around those skills," she says. "We have solar photovoltaic courses, wind safety technician programs — we're very forward-thinking, and our president likes us to go find out what new industries are out there and to find ways to put people to work right here in Michigan."
Now a couple of months into his work at Energetx, Bos is still enjoying his new career, facilitated by the cooperation between GRCC and Energetx: "I'm excited because it's a new company in a growing industry, and you get fired up when you hear things about wind turbines knowing it's something you're going to be working on."