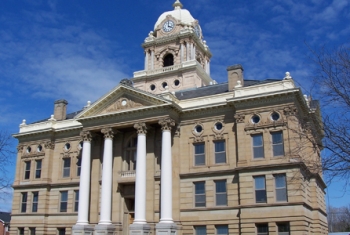 Michigan's Shiawassee County, located in the 'middle of the mitten,' is using over $300,000 in Recovery Act funds to perform ene
Just like energy, an energy audit is a terrible thing to waste.
But when officials in Michigan's Shiawassee County were faced with fiscal challenges, they had no choice but to put off recommendations from a 2007 report highlighting energy problems at county government buildings. 
"We have all these old, beautiful aging buildings," says Margaret McAvoy, a county administrator.  "[However], we felt we did not have the financial resources to implement the recommendations, so we shelved it."
But after receiving an Energy Efficiency and Conservation Block Grant from the U.S. Department of Energy (DOE) worth $302,000 from the American Recovery and Reinvestment Act and $900,000 in low-interest bonds with the government, the county is giving the report a second look.
"When the DOE released the grants, we dusted that [report] off," McAvoy says. "The grant was the impetus to do the whole project."
The $1,162,000 project will address eight structures, some that are more than 100 years old and have no insulation, antiquated boilers and single-pane windows that leak air.
McAvoy estimates the county will save between $50,000 and $70,000 a year in utility bills because of the upgrades. The county will use the savings to pay back the loan over 20 years.
At the beginning of August, Honeywell Corporation, which conducted the original energy audit and was contracted by the county to perform the work, started upgrading the buildings with new lighting, insulation, windows and boiler and air conditioning systems.  The county expects to complete the work over the next year.
Honeywell subcontracted some of the work out to about four contractors in Shiawassee County, something McAvoy pushed for in the grant and awarding process.
"I want some of this money to stay local," McAvoy says. "For a small contractor in Shiawassee County to get a major contractor with Honeywell is a big deal. It is keeping contractors very busy, and it's kept [their] business going."
Of the eight structures being renovated, the district court and health building, which was built in the early 1970s, is receiving the most attention.
All the single-pane windows are being replaced with energy efficient ones. A new HVAC system and boiler are being installed. And the doors are being weather stripped and new walls with proper insulation are being built.
The county's historic courthouse built in 1905, also known as "the jewel in our crown," McAvoy says, will receive lighting upgrades, along with the Surbeck building, another historic building built in the early 1900s, and the county jail and sheriff's office buildings, which were built in the 1960s.
"We have old buildings, old energy, old technology, and we are trying to make them as efficient as possible," McAvoy says. "In this economy, we can't afford to build new, so we are upgrading."