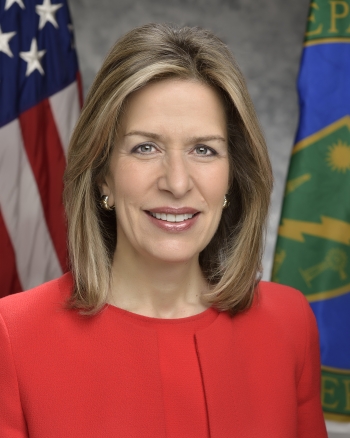 Dr. Elizabeth Sherwood-Randall, above, is our new Deputy Secretary of Energy. | Energy Department photo.
Editor's note: This article has been updated to reflect the most recent information about the October 15 town hall event.
This week we're welcoming Dr. Elizabeth Sherwood-Randall, our new Deputy Secretary, to the Department of Energy. Working with Energy Secretary Ernest Moniz, she is responsible for management of the Department and execution of the Administration's highest priority energy initiatives.
Dr. Sherwood-Randall comes to the Department from the White House, where she most recently served as Special Assistant to the President and White House Coordinator for Defense Policy, Countering Weapons of Mass Destruction, and Arms Control. During her tenure, she was the senior White House official responsible for U.S. defense policy and budget planning, oversaw the successful effort to remove all declared chemical weapons from Syria, and led interagency implementation of the President's new nuclear employment guidance.
From 2009 to 2013, Dr. Sherwood-Randall served as Special Assistant to the President and Senior Director for European Affairs at the National Security Council. She was instrumental in revitalizing America's unique network of alliance relationships and strengthening cooperation with Europe to advance the President's global agenda.
Check out more highlights from Dr. Sherwood-Randall's long career in public service by reading her full bio.
Our new Deputy Secretary is ready to hit the ground running. On October 15, she will join Secretary Moniz for a joint town hall event at the Forrestal Auditorium. Energy Department employees and contractors at other Energy Department sites will be able to watch via livestream on energy.gov/live.