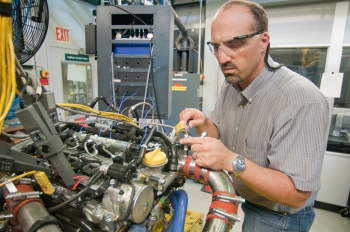 A team of researchers and engineers at Argonne National Laboratory, led by Steve Ciatti, pictured above, is looking at the possibility of using gasoline to power diesel engines, thereby increasing overall efficiency and reducing pollution. | Image courtesy of ANL
A scientist pumping unleaded gasoline into his diesel engine may sound like a typical example of absentmindedness. But in the case of engineers at the Energy Department's Argonne National Laboratory (ANL), this unconventional idea has some serious potential. A team of researchers at ANL, led by Steve Ciatti, is looking at the possibility of using gasoline to power diesel engines, thereby increasing overall efficiency and reducing pollution.
Diesel engines can be more than twice as fuel efficient as gasoline engines, but they also produce more pollution like particulate matter and nitrogen oxide. Ciatti explains, "What we want to do is combine the efficiency of diesel with the cleanliness of gasoline."
Gasoline and diesel engines both produce power by burning fuel in air. The key difference between the two is how the fuel is ignited. In gasoline engines, the air is mixed with fuel before it's compressed, and then ignited with a spark plug. In diesel engines, the air is first compressed and then the fuel is injected. That quick compression makes the air hot enough to ignite the fuel without spark plugs, but the higher temperature and pressure inside the cylinder produce more pollution.
"So we lose the throttle and spark plugs, because those create inefficiencies," Ciatti says. A throttle restricts air to the combustion chamber – without it, the fuel mixes more evenly with the air, so more of it burns. Lack of a throttle also eliminates the chance of fuel igniting prematurely in the engine, which decreases the engine's power and efficiency.
"We start with a diesel engine and inject gasoline instead," says Ciatti. "Because gasoline doesn't ignite immediately the way that diesel would, we can actually inject [it] several times before the fuel ignites. That way, we can make sure that most or all of the fuel is mixed with the air, significantly decreasing [nitrous oxides] and soot."
Through multiple tweaks and the addition of a new engine controller, the team created a diesel engine that runs on gasoline; one that performs close to diesel efficiency. However, using this method to achieve better efficiency and cleaner emissions also means losing some of the engine's power density – it provides 75 percent as much peak power as a comparably sized standard diesel.
But unless you have your accelerator mashed to the floor like a NASCAR driver, Ciatti observes, the impact of less power density for drivers is negligible: "It's excellent in the power range where most people actually drive." 
The Energy Department supports advanced vehicle concepts like Argonne's gasoline-powered diesel engine to help ensure that the cars of the future are invented and made in America. Energy efficient innovations like this one can improve air quality while saving you money at the pump. Cheaper driving and cleaner air: not a bad return for putting gasoline into a diesel engine.
The Office of Energy Efficiency and Renewable Energy's (EERE) Vehicles Technologies Program (VTP) is providing funding to the team of researchers at Argonne, which is managed by UChicago Argonne, LLC, for the Energy Department's Office of Science.