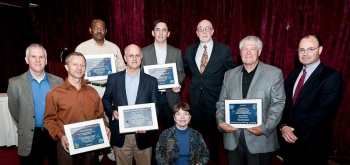 Participants of the Superior Energy Performance certification program | Photo Courtesy of Texas Industries of the Future/Dave Bray
Four Texas-based manufacturing plants are adopting robust energy efficiency standards as part of an energy management certification program led by the Department of Energy's Industrial Technologies Program. 
The certification program, called Superior Energy Performance, provides a roadmap on how to reduce energy consumption without sacrificing a competitive edge or market viability.
The industrial and manufacturing sectors -- which account for roughly one-third of energy use in the United States -- have significant opportunities to improve the overall efficiency of their operations. By reducing the energy necessary for their industrial processes, companies can save money, save energy and help create new clean energy jobs.
Representatives from each of the plants gathered at the 15th Texas Industrial Energy Management Forum in Houston, Texas, in recognition of their completion of the certification program and their place as energy leaders within the U.S. manufacturing sector.
These companies include:
The Superior Energy Performance program was deliberately designed to encourage a culture change in how energy is managed at the facility level by involving people from all parts of management and operations. As part of the program, each company has achieved energy performance improvements ranging from 6.5 percent to more than 15 percent over a two to three year period.
A series of Energy Management Demonstration projects are now underway across the country to further test the elements of the program.
To learn more about industrial energy efficiency, visit the Office of Energy Efficiency and Renewable Energy Industrial Technologies Program website.