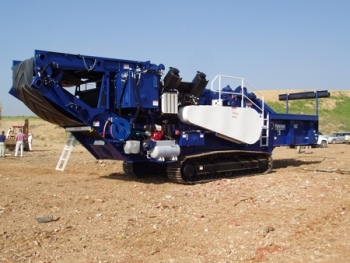 Montgomery's horizontal grinder has normal handling capacity of 108 tons per hour. | Photo Courtesy of Lynda Wool
Warm, humid climate and proximity to the Gulf of Mexico produce turbulent weather patterns that regularly bring tornadoes and hurricanes to Montgomery, Ala. As a result, each year the state's capital city must manage tons of construction waste and storm debris. In doing so, city officials noticed the amount of good wood going to waste.
Now, thanks to a $2.5 million Energy Efficiency Conservation Block Grant (EECBG) from the U.S. Department of Energy, Montgomery will revamp its landfill sorting efforts and retrofit its historical city.
"We really wanted to use the [grant] toward something that could save money over a long range of time," says Lynda Wool, a senior planner in Montgomery's Planning and Development Office.  The city purchased an excavator and horizontal grinder for the landfill. "The excavator and grinder will really help us manage this type of waste."
The grinder can move across the landfill and separates nails, heavy staples, door knobs and other metallic material from waste wood. The waste wood is then sent through the grinder, and comes out as wood chips.
These wood chips have a variety of uses in the city. Some go to the Parks and Recreation department, which lines area playgrounds and parks with chips. Another portion of the chips are used to line animal habitats and tree beds at the Montgomery Zoo.
In addition to the horizontal grinder and excavator, the city purchased more recycling bins for the city, and plans to invest in a recycling campaign on local TV and radio.
New windows brighten the building
With only half of their EECBG funds spent on the landfill maintenance, city officials also decided to give City Hall a much needed facelift, says Wool.
As the capital of Alabama, Montgomery has a very old, historical city hall. In order to maintain the integrity of the building, special precautions had to be taken during the retrofitting process.
"We have a company that specializes in old building restoration, and they're responsible for refurbishing and reglazing windows," Wool says. "The windows really needed to be fixed up. This group is going through inside and out and repairing all of the damage to the frames."
So far, the city is happy with the new look. "When people come downtown, it's obvious that something is different. A lot of people have made comments about how great the windows look. The best part is that it's not only aesthetic, there are energy savings too!"
Wool hopes the windows will be completed by the fall, and will then focus on the next project: a solar array on top of City Hall's parking garage.
"We really and truly think that while the solar isn't going to solely power our city hall, it will have some capacity for buyback and will generate electricity that could be sent around the city," says Wool.
As the state capital, Wool hopes that Montgomery would set an example for other cities around the state.
"We would be the first city hall in the state to do this. This would be a great way to say that we—as a state—need to really start thinking about this," Wool says. "We're trying to be a good role model, and of course, we're trying to save money."
Local work – local jobs
Not only is Montgomery doing work on City Hall, they're also hiring local unemployed citizens to help out. About seven workers have been hired to assist with the windows project at City Hall. Before they can begin working, they receive restoration training and learn the ropes of the contracting business.
"They're seeing different skills and learning those. It's about giving people an opportunity," Wool says.
Overall, Wool says the city seems to be happy with the changes.
"It's a few steps in the right direction, we just have to set the example and encourage people to do a little better with energy savings."