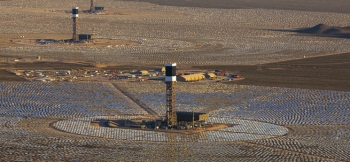 The Ivanpah Solar Energy Generating System was dedicated on Thursday, February 13, 2014. | Photo courtesy of Mingasson/Getty Images for Bechtel.
On February 13, 2014, U.S. Secretary of Energy Ernest Moniz helped celebrate the official opening of Ivanpah, the world's largest concentrating solar power plant.
Storified by Energy Department ·
Fri, Feb 14 2014 22:58:02
Ivanpah was supported by $1.6 billion in investments from the Energy Department's Loan Programs Office. It represents the future of energy -- utility-scale renewable power generation that uses the latest technology to harness the sun where it is most abundant.
Secretary Moniz toured the Ivanpah facility on Thursday morning.
@ErnestMoniz @WhiteHouse This is fantastic news! I'm hoping this is only the beginning of many to come. This is the type of energy we need.
Later, the Secretary took to Twitter to share his thoughts on why Ivanpah is a significant milestone on the road to America's clean energy future.
#Ivanpah produces enough clean energy to power 94K homes using the same amount of water as 2 holes at the nearby golf course. #ActOnClimate
Most of the #Ivanpah supply chain was US-sourced. More than 1,000 American workers helped build the towers & install the mirrors.
#Ivanpah was possible thanks to successful partnerships with @NRGEnergy, @BrightSource, @Google & @Bechtel. Private industry took the lead.
The Energy Dept. has committed more than $24 billion in loan guarantees for clean energy projects across the country, including #Ivanpah.
Meanwhile, "solar selfies" spread across social media as lucky visitors took photos of their reflections in Ivanpah's heliostats.
"We doubled wind & #solar over the past few years - and we are going to do it again." - @ErnestMoniz talking about #Ivanpah
"This is the Hoover Dam of our time. My generation is ready to step into a new era of energy exploration." @isaac_slade from @TheFray
And, of course, a ribbon cutting made it official.
The White House and U.S. Secretary of the Interior Sally Jewell helped share the news about Ivanpah.
Just completed in California: #Ivanpah—the world's largest concentrated solar power plant: http://t.co/qtXx2wpCCh #ActOnClimate
Ivanpah helps cut carbon pollution, meet @WhiteHouse goal: 20K MW of #renewable power permitted by 2020. SJ #solar #climate