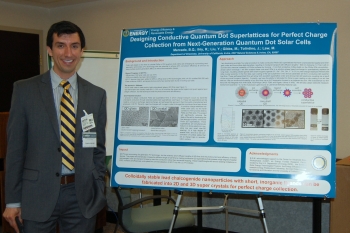 Brandon Mercado, who decided to focus his efforts on renewable energy after hearing President Obama give his 2011 State of the Union address, is now an EERE postdoctoral researcher looking for the next breakthrough in thin-film solar cell efficiency. | Photo courtesy of Martha Payne
The Energy Department is seeking talented scientists and engineers to participate in the Office of Energy Efficiency and Renewable Energy (EERE) Postdoctoral Research Program. This program provides Ph.D. recipients with the unique opportunity to conduct applied research at universities, national laboratories, and other research facilities.
The application deadline is rapidly approaching. So what makes a successful candidate? Below are the common ingredients that are required for the next generation of clean energy researchers.
One Ph.D.
The starting point for all program participants is right in front of their names: Doctor. Candidates for the next round of researchers must have graduated from a doctoral program within five years of the application deadline or capable of completing all of their doctoral degree requirements by September 30, 2012.
One to two years to commit to research
Research appointments last up to two years. Initially, postdocs will be awarded a 12-month period of time to conduct their research, but this may be extended based on the success and continued relevance of their work.
One curious mind         
From tackling efficiency barriers in next-generation quantum dot solar cells to developing non-rare earth high-performance magnets for advanced vehicles, these scientists should be dedicated to finding solutions that will enable a cleaner and more secure energy future.
Measure of motivation        
This program is unique in that it encourages participants to spend 80 percent of their time dedicated to their approved projects, but the remaining 20 percent of the time is allocated to other innovative research. This gives postdocs an opportunity to develop their own ideas related to energy efficiency and renewable energy.
Dash of brilliance
The program's objective is to create the next generation of scientific leaders by attracting the best and brightest in their disciplines.
Blend with interest  
A passion for solving applied research problems in energy efficiency and renewable energy topics is an essential ingredient for a successful candidate. The current postdocs are pursuing their interests in renewable energy sources like wind, water, solar energy, hydrogen and fuel cells, geothermal energy, and biomass, as well as energy efficiency in vehicles, industry, and buildings.
If this sounds like your recipe for success, we want to hear from you! All application materials must be submitted via email to EEREpostdocs@orise.orau.gov by May 1, 2012. For more information, visit the EERE Postdoctoral Research Program website.