Indie Energy Smart Geothermal™ for Buildings from Indie Energy on Vimeo
For the last few weeks, we've told you about the launch of an "Entrepreneurial Mentor Corps," a one-year pilot program to connect clean energy startups with mentors who can help support these companies through early-stage challenges and increase their chance for success. The program is a partnership of the Department of Energy and the U.S. Small Business Administration (SBA), and targets clean energy small businesses who have previously received financial assistance from the Department through the Recovery Act.  
Indie Energy is one of many innovative new companies participating in the mentorship program. Founded in 2006, Indie Energy has created a breakthrough to reduce energy waste in buildings by developing state-of-the-art technology to make widespread geothermal heating and cooling possible for the first time. The company's energy saving "Smart Geothermal" technology has already proven effective with customers including Walgreens, Astellas Pharmaceuticals, Medline Industries and numerous public and not-for-profit institutions, including an energy upgrade of International Union of Operating Engineers Local 150's commercial building campus -- made possible by a $2.45 million grant for advancement of the company's technology through the Department of Energy.
Indie Energy Vice President and co-founder Erik Larson told us that the upgrade of Local 150's building campus is almost finished, and that all the buildings have been connected to geothermal heat sources and plugged into their novel metering system, which is called the "Smart Geothermal Network." This network is the backbone of Indie Energy's innovation and helps optimize building performance and save energy by using real-time data from the building every minute and sending it to the Smart Geothermal Network and Energy Loop servers, which continually provide feedback that adjusts with weather, grid prices and other outside factors that affect energy use.
In addition to these novel metering technologies, Indie Energy's innovative implementation process has made it possible to install systems in commercial buildings and urban areas where geothermal energy has been less of an option for alternative energy sources than in rural areas that offer greater amounts of space.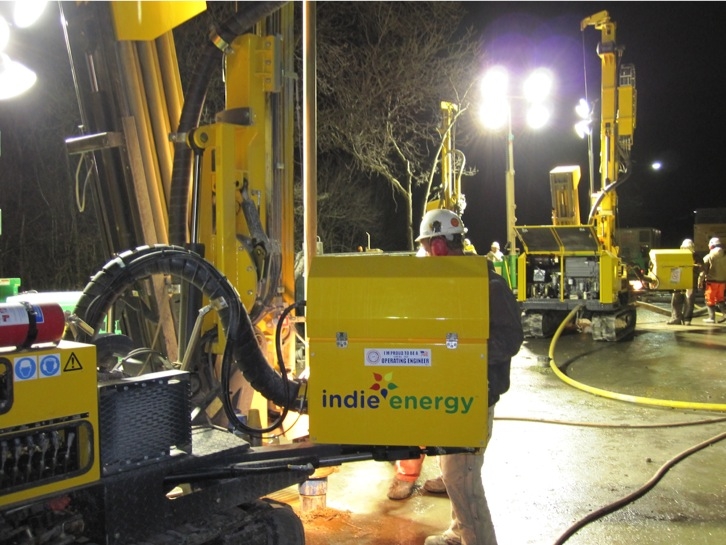 An Indie Energy geothermal installation in process | Courtesy of Indie Energy
To do this, Indie Energy designed a drilling system that allows drillers to access renewable geothermal energy in smaller spaces that were previously deemed inaccessible by geothermal standards (spaces as small as 100 square feet.) Additionally, the company's geothermal drills are much smaller than traditional drilling rigs (12 feet in length versus a typical 40 foot drilling rig) and easier to navigate in small spaces.
By combining innovative drilling methods and the cost-effective, user-friendly Smart Geothermal Network, Indie Energy is reducing energy waste in buildings to save consumers money. Erik says he looks forward to working with a mentor company to help guide the clean energy start-up through the next phase of development. "The Recovery Act funding was instrumental to our company and enabled us to support and demonstrate our technology to the marketplace, which in turn helped us develop and get to the next level -- which is now a growth phase."
For more information about the Entrepreneurial Mentor Corps, visit the website.