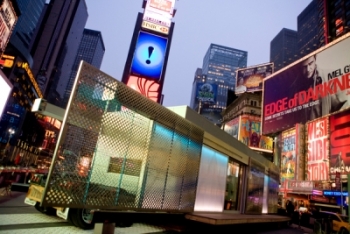 Photo by Kelly Shimoda
Virginia Tech's Lumenhaus — a net-zero energy, solar-powered, 650-square-foot home — made a stop in New York on its tour, right in the middle of Times Square.
The house was previously featured at the U.S. Department of Energy's Solar Decathlon in October, and the team will head to Madrid in June for Solar Decathlon Europe as the only U.S. team to participate in both competitions.
While in Times Square, the team and the house were featured on "Good Morning America" and drew the attention of hundreds of passersby. The home's pavilion design features sliding walls, incorporating the use of lots of natural light.
A geothermal loop helps with heating, and double-hit solar panels generate extra electricity. Virtually everything in the home can be controlled via iPhone. Click here to visit the official Lumenhaus Web site.