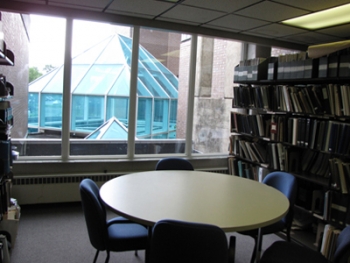 Low emissivity, double pane, fiberglass windows in Newark, Deleware's municipal building. | Photo courtesy of Carol Houck
When city workers stood near four giant aluminum-framed picture windows in Newark, Delaware's municipal building, the sun streamed through with such intensity that it made staffers sweat from its glare. 
Now, after the June installation of 76 low-emissivity (Low-E) windows throughout the building, the Delaware workers are keeping cool.
To fund these improvements, Newark applied for and received a $147,800 Energy Efficiency and Conservation Block Grant from the U.S. Department of Energy.  The grant will reimburse the labor and material costs of purchasing and installing more efficient windows and lights. The city expects to see annual energy savings of approximately 125,920 kilowatt hours and $12,592.
"Employees are more comfortable in their offices," says Carol Houck, assistant to the city manager.  "But most importantly, there's less heat and cooling loss so our facility is more efficient."
Buying domestically
For the windows, the city sought an option that maintained the proper temperature indoors, lowered energy costs and contributed to a productive work environment—all delivered by American manufacturers. 
Tim Vollentine, a sales representative for Aeroseal Contracting, a commercial exterior vendor, helped the city find the best replacement for its old single pane, aluminum windows: the choice – low-E, double pane, fiberglass windows by Marvin.
A 30 year window industry veteran, Vollentine sees upside as more organizations look to save money through energy conservation efforts.
"When the government made the stimulus funds available and tied the requirements to thermal efficiency and energy savings, fiberglass windows became a more viable option," he says.  "When someone's concerned about energy efficiency, it's a challenge because you're trying to achieve the best possible performance at the best price with multiple considerations to balance."
Newark is looking at other project with energy efficient lighting retrofits are next.  Graybar Electric, a components, equipment and materials distributor, will supply the occupancy sensors.  HD Supply, an infrastructure and energy product distributor, will provide the Universal Voltage Ballasts, electrical devices that regulate lighting.  Tecot Electric will deliver the lamps. 
Emissivity
One term that many buyers don't understand is emissivity -- a measurement of how well something radiates absorbed energy. The more reflective something is, the less emissivity it has. 
"Windows coated in low-Emissivity materials, help control the temperature inside a building," Vollentine says.  "Low-E glass reflects radiant energy from the inside, keeping heat inside rather than allowing it to be lost through the windows. It also reflects radiant energy from the outside, keeping the building cool in summer."
The exact amount of energy and cost savings from the window replacements won't be known until the city compares year-over-year bills, but Newark's Houck expects it to be substantial because employees no longer feel compelled to adjust the heat and cooling system.