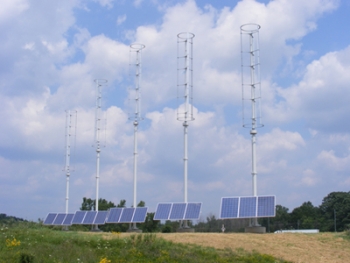 Genoa Township, Mich., installed five wind/solar hybrid units that will supply up to 20 percent of the township hall's electrical needs. | Photo Courtesy of Genoa Township
To all those communities looking for ways to encourage residents to install renewables, officials in Genoa Township, Mich., have three simple words of advice: location, location, location.
In an effort to lead by example, the township used a $94,919 Recovery Act award to install five, 50-foot- tall solar and wind hybrid units behind the township hall—in perfect line of sight for the passengers in the 100,000 cars that whiz by every day on Interstate 96.
"It's generated a lot of interest," says township manager Mike Archinal. "People are pulling off the highway to get a closer look."
And they're also asking questions. They want to learn more about the technology and how to get a hybrid unit installed at their home, he adds.
Michigan made
Genoa Township, a charter township in Livingston County with about 16,000 residents, used the Energy Efficiency and Conversation Block Grant to purchase the five, 1.9 kW Windspire units. The entire 9.5kW system will supply up to 20 percent of the township hall's electrical needs.
The total cost of the project, which was installed in early August by local contractors with units manufactured in Manistee, Mich., was about $103,000.
"We saw this as an opportunity to have a high visibility project for residential application," Archinal says.
Hybrid wind-solar
Looking more like scaled-down electrical towers than typical turbines found on a wind farm, the units can supply up to 25 percent of a home's electrical needs, according to Windspire.  Vertical airfoils catch the wind, with several solar panels at the base to absorb sunrays.
Their appearance isn't the only thing that's different.
This turbine/solar panel hybrid generates about six decibels of noise, which is comparable to hearing leaves blow in the wind. Other small-scale wind turbine units fall in the 20 to 25 decibel range. A large-scale turbine is about 50 decibels, which is like listening to a bird chirp outside a window.
Lead by example
The Clean Energy Coalition of Michigan reports that Genoa Township is the first block grant recipient in Michigan to complete its EECBG project.
"These are vertical [Windspires]: very quiet and good for homes," Archinal says. "They're also attractive, and they look like a work of art."
Anyone interested can see how much energy the township hall's system is generating by going to the Genoa Township's website, thanks to the digital meter installed on the east side of the township garage taking real-time measurements.
When the township hall is not in use, and it is a very windy or sunny day, Archinal says the units may generate more power than the building needs. In these instances, power will be fed back to the electrical grid. 
"The biggest benefit is visibility, but it's also education," Archinal says. "Maybe it can inspire some 15-year-old-kid to come up with better technology."