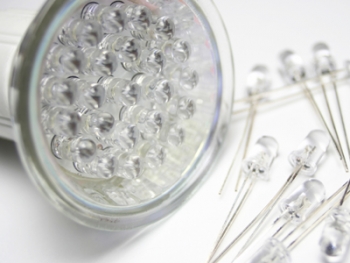 LEDs such as this are expected to save Altoona, Pa. thousands in energy costs. | File photo
It's easy to measure the effects of a lighting retrofit project in a city like Altoona, Pa., where 169 new LED units are expected to save $4,078 in energy costs annually.
But there are also other benefits to such energy efficiency initiatives, which can be seen in the local companies that make the projects possible. "The American Recovery and Reinvestment Act has helped our customers make the decision to move forward with energy related projects," says Paul Shields, vice president of sales for The Hite Company.
The Altoona, Pa.-based electrical distribution company supplied the LED products that were used in the city of Altoona's Energy Efficiency and Conservation Block Grant, funded through the Recovery Act. Similar projects, in which The Hite Company distributed energy efficient products, have contributed to approximately $1 million in additional business.
"We have seen an increase in business on products such as LED traffic signals and LED site lighting, often purchased by either local municipalities or boroughs in the region," Shields says. 
Such LED lights are very efficient and require less maintenance by lasting for about 50,000 hours, Shields says.  As municipalities such as Altoona implement Recovery Act funded projects to improve their energy efficiency and realize long-term budget savings, companies such as The Hite Company have an opportunity to supply energy-related products. 
Shields points to the Pittsburgh Board of Education, which has initiated a large LED site lighting project for which The Hite Company offered design and management assistance. Additionally, the city of Pittsburgh is evaluating a complete LED retrofit project where high-intensity street lighting may be replaced with LED products. 
Locally, the Southern Alleghenies Planning and Development Commission has worked with five counties in Pennsylvania to convert traffic signals to LED lights.  The Hite Company will be supplying the LED units for the counties' signal lights and pedestrian signs. 
"Cities such as Pittsburgh and Altoona have done some sizable projects this year with us and continue to look at other parts of their cities where they can save energy and help cut back their maintenance expenses by using better technology that lasts much longer," says Mike Wilson of The Hite Company.
The Pittsburgh School District is one example, having purchased about $250,000 of LED site lighting for their schools over the past year and a half, Wilson says. The Hite Company is also hoping to participate in business through a competitive bid process for the City of Pittsburgh.
Editor's note: This story was updated on October 15, 2010 to update projected savings.