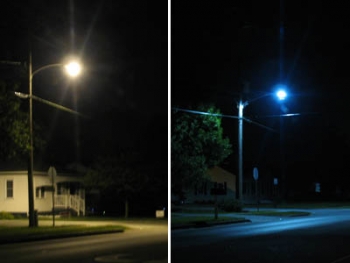 New LED lighting fixtures (right) emit a whiter light than existing high-pressure sodium cobra head streetlights (left) and don't spill light onto nearby houses. | Photos courtesy of the City of Muscatine
In the small Midwestern town of Muscatine, Iowa—known as the "The Pearl Button Capital of the World" for the millions of pearl buttons produced there in the early 1900s—a lighting retrofit project will bring a new kind of shine to the town: LED streetlights. 
Muscatine will be replacing 300 high-pressure sodium cobra head streetlights with light emitting diode (LED) fixtures. The new lights will line several roads leading into the city as well as streets in the city's downtown area, providing motorists and pedestrians with better visibility.
The lighting retrofits— which are partially funded by a $92,256 Energy Efficiency and Conservation Block Grant (EECBG) from the U.S. Department of Energy— are projected to save the local municipal utility $14,000 to $15,000 a year on energy and maintenance costs and reduce annual CO2 emissions by an estimated 75 tons. Muscatine Power and Water provided $92, 256 in matching funds.
LED lights not only require less energy but also have significantly longer life expectancies and require less maintenance, says Mark Nelson, the chief operations engineer for Muscatine Power and Water. The combined savings from lower electricity and maintenance costs will allow Muscatine Power and Water to payback its investment in slightly more than six years.
"Reduced maintenance costs are a major contributor to the payback of the project.  For every dollar we save in energy use, we will save approximately 80 cents on maintenance costs," says Nelson. "The LED lights are estimated to have a 12 to 15 year life expectancy, which means we will be able to save money long after we have recouped our initial investment."
In addition to the savings, Nelson says the LED lights provide a safer driving environment.
 "High pressure sodium cobra head streetlights create an amber glow, but LED lights give off a whiter light that provides better color rendering and depth of field," says Mark Nelson, the chief operations engineer for Muscatine Power and Water. "So safety on the roads is better with LED lights."
Nelson estimates that work on the project will begin in November or December of this year and that all replacements can be completed within six months.