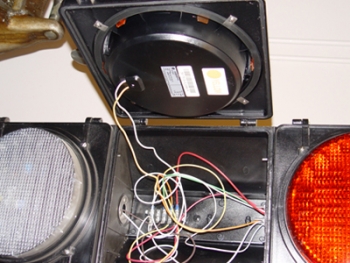 A LED light bulb is installed in one of Glendale, Ariz.'s traffic signals. | Photo courtesy of Glendale
Glendale, Ariz., like many other cities, was facing several problems: a tight budget and aging buildings using outdated lighting  - making repairs difficult and expensive.
The project was especially beneficial for the library, which was built in the 1980s. The building's previous lighting fixtures had not been replaced since construction, and the type of light bulbs required were no longer available for purchase.
According to Stuart Kent, field operations director for Glendale, city officials were unsure of how to address the problem prior. The EECBG money allowed them to sidestep issues by installing all-new lighting fixtures.
Kent says that the reduction in annual costs will help Glendale balance its budget. He hopes to put some of the saved money into a rotating fund that can be used to finance future energy-efficiency projects.
The city also plans to replace the lighting at the city court building within the next 90 days and to replace the medium-pressure UV lamps currently installed at the city's water treatment facility with ones that require less electricity.
"Without the [EECBG] funding, we could not have installed LED lights in all of the...traffic signals," says Jamsheed Mehta, transportation director for the city of Glendale. "The LED lights not only minimize power usage but also tend to last 6 to 7 years, whereas incandescent light bulbs in traffic signals usually last for one year. LED lights also die down slowly over time, as opposed to going out in a single flash, which gives engineers fair warning before they have to replace the bulbs."