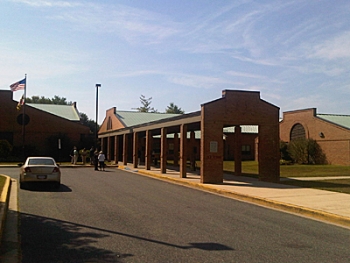 Ring Factory Elementary School has installed a new ENERGY STAR-rated "cool" roof that is estimated to be 57 percent more energy efficient than the previous roof. | U.S. Department of Energy
It is back to school time for the 513 students at Ring Factory Elementary School in Harford County, Md.  And there's something new and cool -- beyond clothes and backpacks -- for these kids.
The latest addition is the school's new ENERGY STAR-rated "cool" roof, funded in part through the Recovery Act.
"We believe strongly that we practice what we teach," says Andrew Cassilly, who oversees resource conservation and sustainability for the Harford County Public Schools.  "When we talk about sustainability in our classrooms, this roof is a prime example." 
The Harford County Board of Education received $500,000 for the project from the $2.1 million award Harford County received as part of the Energy Efficiency and Conservation Block Grant (EECBG). The EECBG program is funded through the Recovery Act.
Reflecting a cool roof
Erin Ferriter of Harford County Government worked closely with the school system on designating the funds and moving the project ahead. And for good reason.
"The old roof was failing," says Ferriter, of the school's old, asphalt shingled roof.  "It wasn't energy efficient and was starting to leak. There was potentially some internal damage. And if this was left unattended for a few more years, there potentially could have been a mold issue."
The school's new cool roof, which was installed during the kids' summer break, is green and fits well into the surroundings and the area's architecture, says Ferriter of the standing seam roof. "People drive by and they are surprised that that is an energy efficient roof."
Harford County estimates that the new standing seam roof is 57 percent more energy efficient than the previous roof. School officials will be tracking the building's energy use to determine future energy savings.
Cool roofs reflect solar radiation, reduce the heat conducting into buildings and directly reduce air-conditioning use. The new roof has a Solar Reflective Index (SRI) of 104, which is a top-level score for the building's ability to reject solar heat.
"This will allow us to reduce our energy usage with the HVAC and allow us to become a more efficient school. Reduce our footprint and use our resources more efficiently," notes Ferriter.
The school system's Cassilly agrees. "This shows how sustainability, environment and energy conservation project do not have to be delivered in a stark, new age structure. You can build an energy efficient structure that meets the community look and standards. This ties together seamlessly."