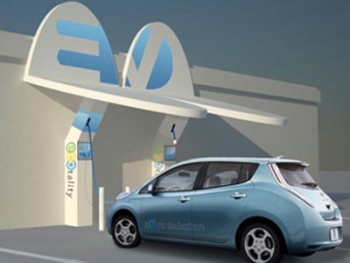 An artist's rendering of a Nissan LEAF charging outside a café. | Courtesy The EV Project
Oil and gas price fluctuations and environmental concerns are driving innovators to find new ways to power our vehicles. That's the focus of The EV Project, a new program of ECOtality North America, which was awarded a $114.8 million Recovery Act grant from the U.S. Department of Energy. The EV Project will create a network of charging stations for participants' electric vehicles and gather data on the stations' usage.
"As [Energy] Secretary [Steven] Chu rightly pointed out, the only way this next wave of electric vehicles will be successful is if there is a robust network of charging stations to support them," says ECOtality CEO and President Jonathan Read. "Through The EV Project, we are learning what we will need to do to build out that strong infrastructure nationwide."
Driving demand for EV
According to The EV Project's website, consumers who participate in the program will spend between 50 cents to $1.50 per day to charge their LEAFs, which they'll obtain by reserving the vehicles online. The LEAF is a five-passenger hatchback, powered by advanced lithium-ion batteries — with a range of more than 100 miles on a single charge. The vehicle will cost drivers about $25,000 after a federal tax credit. The lease price is about $349 per month. To drive demand to the stations, ECOtality is partnering with Nissan North America and Chevrolet to deploy up to 8,300 electric vehicles and more than 15,00 charging systems in six states - Arizona, California, Oregon, Tennessee, Washington and Texas - and the District of Columbia.
Project executives estimate that up to one-third of participants may be for business fleet purposes, but the majority will be private citizens.  Many participants will work with Nissan to have charging stations installed at their homes as well, which the company estimates will cost about $2,200, but that amount may also be offset a 50-percent tax credit.
Oregon has the most target cities participating in The EV Project with Portland, Eugene, Corvallis and Salem all on board. Officials in the state are conducting community outreach efforts to determine where in those cities the charging stations will be installed. 
 
Location, location, location
"This demonstration project is primarily a study to look at places where charging behavior is likely to be focused so we can find out, aside from peoples' homes, where would there be a lot of people plugging in frequently?" says David Mayfield, area manager for ECOtality North America stakeholder services in Oregon. He adds, "We're very interested in who is raising their hands for these vehicles and where we can have public infrastructure that will best serve them."
Because the average charge will take one to three hours, charging station locations are a key consideration. Mayfield says charging stations need to be at places where drivers will be comfortable spending time, such as grocery stores, coffee shops, movie theaters and civic centers. There are plans to also install some fast-charge stations, probably near areas of high traffic such as interchanges on state and federal road systems.
Driving EVs with data
"I think the data collection and information developed will help inform battery and car manufacturers, cities, states and private companies relative to the appropriate emerging infrastructure, and we can understand more about driver behavior from initial activities during brand-new adoption to after participants have been driving a couple of years and are more comfortable with their electric vehicles," Mayfield says.
Jeanine L'Ecuyer, vice president for communications at ECOtality, says that data will be available to parties who wish to access it. "It's a science-based experiment," she says. "ECOtality knows a lot about electric vehicles, but what The EV Project does is to show us how people will use the vehicles — what we learn from this deployment will inform the way the infrastructure is built for the next 5 million electric vehicles in America and beyond."
This project was highlighted in the Vice President's report on 100 Recovery Act Projects That Are Changing America