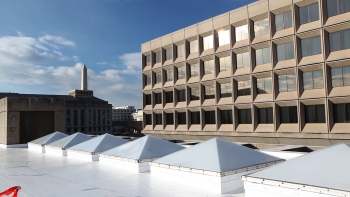 New cool roofs installed on the Energy Department's headquarters building in Washington DC in November, 2010. | Image credit Quentin Kruger, Energy Department
Brian Costlow has won several awards for his work recently, including the Federal Energy and Water Management Award and the Energy Department Energy Management Award for Exceptional Service for his efforts to make the Department's headquarter buildings models of sustainability.
Every day, employees across the Energy Department work to make America more energy efficient and to lead the national conversation on energy.  In order to lead that conversation, it's vital that we practice what we preach.
The Energy Department is leading by example and saving taxpayer dollars by making our buildings at headquarters in Washington, D.C., and in Germantown, Maryland, more energy efficient.  Our efforts build on the Obama Administration's mandate that the federal government reduce its environmental footprint and ramp up its sustainability programs.
I'd like to highlight four specific changes that have saved us both energy and money.
1. We are replacing our current end-of-life roofs with new, cool roofs which will reflect heat and reduce energy needed for cooling.  So far, we have installed 25,000 square feet on our Washington, D.C., Forrestal West building and we are nearing completion of 66,000 square feet on our South Building.  Cool roof savings are estimated to be about 232 million British Thermal Units (MBtu) per year in reduced energy consumption and $8,000 in energy savings.
2.  We installed a solar panel on our Washington, D.C., North Building Roof, which not only provides electricity to our facility, but also demonstrates various solar technologies, provides education and outreach opportunities, and supports ongoing solar research. These panels are among the largest in Washington, D.C., and generate about 230,000 kilowatt hours of electricity per year that we use to power our operations. Since installation in September 2008, these solar panels have generated about 693,000 kilowatt hours of electricity.  At an average cost of 13.1 cents per kilowatt hour, that's a savings of about $91,000.
3. We awarded a $26.2 million energy savings performance contract  to NORESCO. The contract is an arrangement that allows us to partner with private industry to identify and implement changes that will have a positive impact on the environment and our  bottom line. Improvements such as LED exterior lights, steam trap repairs, a variable air volume system retrofit and a centralized chiller plant the contract will save water at our Germantown, Maryland complex and reduce energy consumption at our headquarter's building in Washinton, DC, by more than 20 percent annually. This approach is expected to save American taxpayers $59.5 million in the long term.
4. We're greening our transportation fleet, reducing it by more than 35 percent and ensuring that more than 75 percent of it uses alternative fuel sources.  Cutting back in this area has already had a measurable impact, saving more than 5,000 gallons of petroleum in fiscal year 2010.
In addition to these investments, we know that it is imperative to create cultural change in the Department. Giving employees the information they need to become better energy stewards has a profound impact on our ability to save energy and money.  Our awareness campaigns, including deploying electrical metering, our monthly "zoned" energy competitions, highlight the difference we can all make simply by turning off our lights, computers and other appliances when we're not using them.
All of this would not be possible without the support of the dedicated staff in the headquarters logistics and facilities organization and the partnership we have with the Sustainability Performance Office and the Federal Energy Management Program.
To all Energy Department employees: Thank you for answering the call and leading by example. You can learn more about how you can make your space more efficient here.