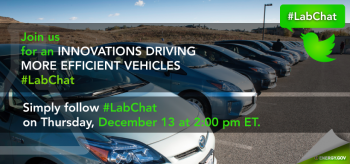 What improvements are making vehicles drive farther? Learn about the technologies that are increasing vehicle efficiency.
Over the past couple of weeks as part of our 54.5 MPG and Beyond series, we have been highlighting new technologies that are reducing our dependence on foreign oil and saving consumers money by increasing vehicle fuel efficiency. From lighter materials to advances in hybrids to advanced combustion engines, researchers at the Energy Department and its National Laboratories are developing technologies that will help consumers drive farther using less fuel.
On Thursday, Dec. 13 at 2 pm ET, three leading vehicle technologies researchers will hold open office hours as part of the #LabChat: Innovations Driving More Efficient Vehicles.
Pacific Northwest National Lab Transportation & Industrial Materials researcher Dean Paxton will be tweeting from @PNNLNews. He leads projects that reduce vehicle weight by developing methods to form advanced, lightweight materials into shapes that are relevant to the auto industry, as well as technologies to join these advanced materials to each other and traditional materials currently used on vehicles. Paxton also works on improving engine efficiency by developing materials that can operate at higher temperatures and pressures. Paxton can answer questions about research on vehicle lightweighting and increases in engine efficiency.
Eric Rask, a researcher at Argonne National Laboratory, will be tweeting from @Argonne. A co-author of several patents related to hybrid powertrain architecture and vehicle operation, Rask explores new technological developments in electric and other advanced vehicles. He can answer questions on advances in vehicle batteries, engines and transmissions that will help improve vehicle mileage.
Energy Department manager, Gurpreet Singh, will be moderating the #LabChat from @energy. Singh leads the Advanced Combustion Engine Technologies team, which focuses on improving combustion engines and emissions control technologies that will enable vehicles to drive farther on less fuel. He can answer questions about how advanced combustion and alternative fuels in transportation will help cars drive farther.
Not able to join the Twitter chat? Send us your questions about technologies that are helping improve vehicle fuel economy using #LabChat any time before the chat, and we will have our researchers answer them. You can also email us questions or submit them on Facebook.
Q&A
Researchers are developing technologies that will help consumers drive farther using less fuel. Have questions? Ask us here or on #LabChat.
Ask Us