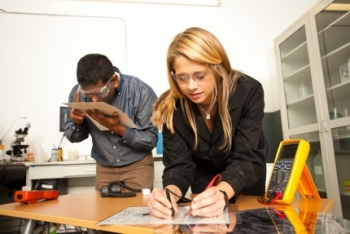 Testing materials in the lab at Vorbeck Materials Corp. | Photo courtesy of Vorbeck Materials Corp.
Editor's Note: This article is crossposted from WhiteHouse.gov.
Last week, the Department of Energy launched an expanded version of its popular America's Next Top Energy Innovator Program -- which, since 2011, has unleashed the National Laboratories' unlicensed patents for use by startups looking to build their businesses and bring energy technologies from the lab to the marketplace. The revamped program expands the class of eligible startups to include all companies that are less than five years old, have fewer than 50 employees, and have received less than $5 million in funding since incorporation. 
The announcement advances the Administration's Startup America initiative to promote high-growth entrepreneurship and follows a recent speech at Argonne National Laboratory in which the President emphasized the importance of energy innovation, saying "right now, few areas hold more promise for creating good jobs and growing our economy than how we use American energy." 
Those interested in taking part in the Program -- which makes National Laboratories' unlicensed patents available to startups at a reduced fee of $1,000 for up to three patents -- can browse available patents through DOE's online Energy Innovation Portal.
Below, Christy Martin (Director of Development for Vorbeck Materials) and Phil Roberts (CEO of California Lithium Battery) -- two participants in the first round of the America's Next Top Energy Innovator Challenge -- share their experiences with the innovative DOE program.
What does your company make, and why is that exciting?
 
Christy Martin:  Vorbeck Materials was founded in 2006 to develop and commercialize applications related to a new materials technology called graphene, the initial isolation and characterization of which earned two professors the 2010 Nobel Prize in Physics. Graphene has the potential to revolutionize a variety of existing technologies, from making computers more efficient to making cars more resilient. Vorbeck Materials focuses on how to effectively utilize graphene in a way that can impact people's lives, and focuses on three different technology areas: electronics, performance materials, and energy. It works in partnership with the Pacific Northwest National Laboratory (PNNL), as well as Professor Ilhan Aksay at Princeton University, who originally developed the process that enables large-scale production of graphene.
 
Phil Roberts:  California Lithium Battery (CalBattery) was started more recently, in 2011, with the goal of finding technology that could, in a short period of time, help to dramatically improve the performance and lower the cost of lithium ion (Li-ion) batteries made in the U.S. In 2009, I was leading Ionex Energy Storage Systems when a representative from Argonne National Laboratory who mentioned that they were developing a new lithium battery material that had the potential to improve the performance and lower the cost of our existing lithium battery technology, and who asked if we would be interested in such a technology. Argonne then introduced a silicon graphene composite anode material to us. We tested that material over the course of the past year and recently licensed it to manufacture the technology as a standalone material, and eventually incorporate it into our own advanced energy storage battery in order to increase its capacity by a factor of three or more. CalBattery spun out of Ionex and formed to commercialize the Argonne technology, which, Argonne tests show, can dramatically increase conventional Li-ion battery performance and lower their life time cost when coupled with other new advanced Li-ion cathode and electrolyte materials.  
 
How was your experience participating in the America's Next Top Energy Innovator Challenge?
 
Martin:  I have nothing but favorable and positive feedback about the program. It lowered the barriers to entry for us and fostered various partnerships. Participating in the competition (via the YouTube video and online voting involved in the America's Next Top Energy Innovator Challenge) was also a fun way to get exposure. Vorbeck employees reached out to our networks, families, and friends to explain how our technology works and why it is important in a way that the general public could understand.
 
Roberts:  The option agreement from the program gave CalBattery a sense of confidence regarding our ability to get a license for the material. The intellectual property (IP) is a very important aspect of building a business like ours because without having IP ownership at some level, it is difficult to obtain sources of capital; people won't invest unless the company owns some rights for the technology in which they are investing.
 
What's next for your company?
 
Martin:  Through its recent ARPA-E agreement, Vorbeck Materials is continuing development of a graphene lithium-sulfur battery chemistry technology that it licensed through the America's Next Top Energy Innovator Program. 
 
Roberts:  CalBattery is in discussions with a variety of major companies making both batteries and electric vehicles, and is now working to scale up the production of its silicon graphene battery material. These are matters of transformational science and game-changer technology because they enable companies to make and sell a product that could improve the economy and reduce global emissions in a substantial way. Everyone likes to be an innovator to a certain degree or to create something. Many people could find a way to take some of these technologies that are just sitting there and really 'do what Americans do best' -- innovate.
 
Learn more about DOE's America's Next Top Energy Innovator Program here.