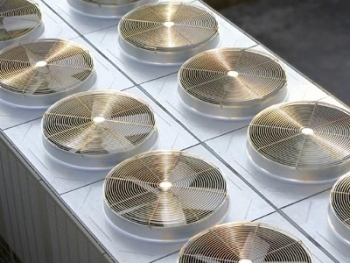 Air-conditioning units are just one of 16 appliances that the Kentucky Appliance Rebate program supports.| File photo
Unlike many other states, Kentucky offered rebates on a wide array of appliances—16 to be exact—ranging from the standard clothes washers, dishwashers and refrigerators and even to solar water heaters and geothermal heat pumps.
So far, Kentucky's energy efficient appliance rebate program has issued nearly 29,500 rebates to Kentucky residents, with another $750,000 available until funds are depleted. The program, which launched in April, is funded by $4 million State Energy Program grant through the Recovery Act.
Wide variety equals wide savings
Almost $1 million in rebates—about 9,900 rebates— went for clothes washers – among the most popular rebate - which will save between 178 and 203 kWh per machine annually. Kentuckians receive $100 for clothes washers and $50 for the latter two appliances.  All together, these units will save around 1.8 million kWh annually, enough to power more than 55 American homes.
"We utilized a large number of appliances and consequently touched a large number of homes," says Ron Alsup, program manager. "We touched a large number of residents in both rural and urban areas."
Revamping gets results
The rebate program has run in two parts, with the first beginning in April. Kentuckians could reserve rebates before purchasing an appliance. Because some people reserved a rebate and then did not purchase an appliance, Kentucky was able to reopen the program.
In July, with about $1.5 million in unclaimed funds, the program launched phase two as a first-come, first-serve basis to encourage consumers to turn in applications as soon as possible. With the help of Kentucky's First Lady Jane Beshear, the program re-launched from GE Appliance Park in Louisville.
"Having the event brought attention back to the program," says Alsup.
Since that event, says Alsup, rebates recognition has picked up. "We really encouraged people to go to the website, make a purchase and take advantage of unclaimed rebate funds. In a month, we saw a large increase in the volume of the rebates being distributed. This second wind helped us get to the numbers we have today."
Alsup estimates that the program should close sometime this fall.
"We're glad to be taking these inefficient appliances off the grid and replacing them with new, high efficiency appliances."