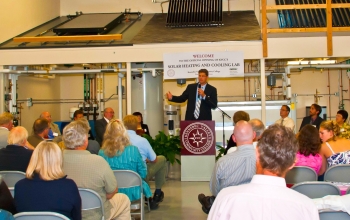 The grand opening of the Northeast Solar Heating and Cooling Instructor Training Project at Kennebec Valley Community College (KVCC) in Fairfield, Maine in August 2011. | Image courtesy of Eric Escudero.
Advancing solar technology is not only key to increasing the affordability of renewable power, it's also critical to spreading its economic benefits across the country. That's why Kennebec Valley Community College (KVCC) in Fairfield, Maine, has created a program to increase the quality and availability of training in how to install solar systems in the Northeast.
The lab may have hosted its grand opening last week, but the facility has been in development for more than a year and hosted two separate "train the trainers" sessions before the facility was even complete.  Course participants from Connecticut, Massachusetts, New Hampshire, New York, Rhode Island, Vermont and Maine, come from community colleges, apprentice programs, career education programs, and private companies.
In 2009, with funding from the American Recovery and Reinvestment Act, the Energy Department launched the Solar Instructor Training Network to coordinate training in solar system design, installation, inspection and sales.  KVCC was chosen to be one of nine regional U.S. training centers.  
As Dr. Ramamoorthy Rameesh, the Energy Department's Solar Technologies Program Director, said, "This investment at Kennebec Valley Community College to train a new generation of scientists and technological leaders helps us secure our energy future and create long-term jobs at home. Educational training to develop the next workforce of clean energy professionals brings us closer to achieving our nation's goal of expanding the clean energy economy and improving our energy independence."
KVCC's classrooms are equipped with hands-on training materials like rooftop mock-ups and people attending their trainings can even practice on the roof's live solar thermal system.
"The Northeast is generally not considered to be a primary location for solar heating and cooling, but this facility proves how powerful and cost-effective the technology is," said Dana Doran, KVCC's Energy Programs director. "Students, industry, and the general public will be the true beneficiaries of what this facility really has to offer now and in the future."