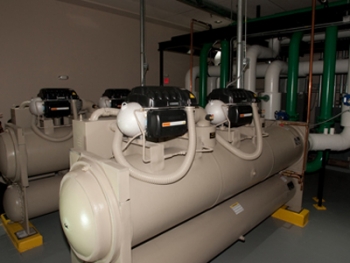 The Orlando Science Center has installed a new energy efficient HVAC unit. | Photo courtesy of Orlando Science Center
In the summer of 2009, the Orlando Science Center (OSC) was full of hot air, literally. 
The museum's heating, ventilation and air conditioning (HVAC) system - which had been an operational challenge for several years - was running at 30 percent capacity. That meant the building's interior temperature was often at a toasty 80 degrees, subjecting patrons to miserable conditions.
"To keep visitors happy, the museum had to reduce admission prices and provide free bottles of water," says Jon Ippel, a sustainability project manager with the city of Orlando's Department of Public Works. "We thought a new HVAC unit would not only be beneficial for patrons, but it could help reduce the amount of energy the museum needed to use to keep the building cool."
Ippel approached managers at OSC with the idea of using some of Orlando's $2.6 million Energy Efficiency and Conservation Block Grant (EECBG) to help the museum purchase and install a new, energy efficient HVAC unit. OSC accepted the offer with open arms. 
Installed in March, the new unit's increased energy efficiency is due to centrifugal compressors driven by magnets, rather than the rotary screw compressors found in the old unit. The magnets reduce the amount of energy lost through friction and heat build-up. This eliminates the need for lubricants, making the new HVAC unit more energy efficient and less likely to require maintenance.
"We had wanted to replace the HVAC system for a long time but it was a very expensive and complex endeavor," says Jeff Stanford, OSC's vice president of communications. "It was hard to explain to patrons that this sort of maintenance is more involved than asking the neighborhood electrician to swing buy and put more freon into the cooling system."
In its first month of operation, the new HVAC unit used 64,000 fewer kilowatt hours of electricity than its predecessor had a year earlier. This is a single-month savings of approximately $4,900 on energy costs—an amount equal to 288 admission tickets.
In addition to keeping things much cooler, the new system has presented OSC with an exhibit opportunity. Officials estimate that the HVAC system will reduce electricity costs by 25 percent and save 80,000 gallons of water a month. The cooling towers in the new unit are a zero bleed system, meaning they prevent excess water loss from evaporation. They are also constructed of stainless steel and will not require toxic chemicals to remove scale build-up that typically occurred on the old unit.
"What makes this such a worthy project is that OSC can be an educational forum for green and sustainable technologies," says Stanford. "We plan to offer public tours of the HVAC unit and are developing a 30 minute presentation about how it works and why it is more energy efficient."