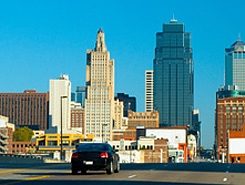 On Wednesday March 16, the Kansas City, Kansas School District welcomed some newcomers to their community – 47 natural gas school buses deployed as part of the Clean Cities Alternative Fuel Vehicle Pilot Program, supported by the American Recovery and Reinvestment Act. Kansas City's mayor, the school's director of transportation, and the Kansas City Clean Cities coordinator introduced the new vehicles to the crowd, describing how they can help reduce America's dependence on imported oil while also saving money, reducing pollution, and teaching students about new technology. The buses' first runs will begin next week, after the students return from spring break. In addition to the buses, the project also supported the installation of a compressed natural gas filling station.
As a domestic, cleaner fuel, natural gas is a great fit for school bus fleets like Kansas City. Natural gas vehicles produce far fewer air pollutants than the old diesel vehicles they will replace, including emissions that contribute to smog. These pollutants can contribute to asthma, heart disease and bronchitis. As children's lungs are still developing, protecting them from this pollution is particularly important. Natural gas vehicles also produce fewer greenhouse gases that contribute to climate change. In addition, because natural gas prices are typically lower and may be more predictable than prices for petroleum fuels, schools using natural gas buses can save money on their transportation costs. Perhaps best of all, teachers can use alternative fuel school buses as teaching tools to help students learn how these technologies affect their lives and benefit their communities. In fact, another part of the project focuses on outreach, encouraging the adoption of alternative fuel vehicles in the Midwest.
This award is part of a larger, $15 million Metropolitan Energy Information Center Midwest Region Alternative Fuels Project. This project will install 27 alternative fuel stations and bring 373 alternative fuel and advanced technology vehicles to Midwest roads. In addition to natural gas, this award will also deploy biofuels infrastructure, electric vehicle chargers and electric drive vehicles. This project, like so many Recovery Act projects, provides direct benefits today while building a sustainable foundation for tomorrow.