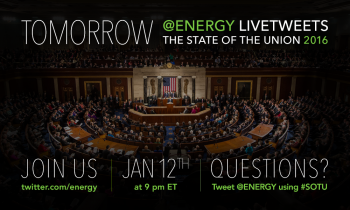 Join us for live coverage of the State of the Union, starting at 9PM ET on Tuesday. | Image courtesy of Carly Wilkins.
Tomorrow night President Obama will deliver his seventh State of the Union address, presenting the Administration's policies and priorities for the coming year. Here at Energy.gov, we'll be live-tweeting the President's speech -- with a special focus on mentions of energy, climate change, manufacturing and other aspects of the Department of Energy's work.
Starting at 9 p.m. ET tomorrow, follow along with @Energy on Twitter. Ask questions and share your thoughts by tweeting at @Energy using #SOTU. You can also watch a livestream of the speech enhanced with charts and graphics that explain the President's points on WH.gov/SOTU.
Our coverage continues Wednesday, when Secretary Moniz will join the White House for Big Block of Cheese Day, a day-long Twitter town hall event inspired by President Andrew Jackson's 1837 open house featuring a 1,400-pound block of cheese. The Energy Secretary will join other Administration officials to answer your climate and energy questions at 2 p.m. ET. Follow along on Twitter, Facebook, Instagram or Tumblr, and ask away using the hashtag #BigBlockOfCheeseDay.