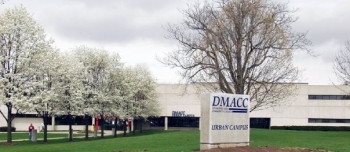 DMACC will be installing nearly 1,500 occupancy sensors in the college's classrooms to help conserve energy.| Photo Courtesy of DMACC
Des Moines Area Community College (DMACC) serves more than 65,000 Iowans on six campuses, making it the largest two-year college in the state of Iowa.
In an effort to lower operating costs and reduce the college's carbon footprint, DMACC's staff is giving the college an energy makeover through a variety of projects ranging from installing energy efficient light bulbs to retrofitting outdated heating, ventilation and air conditioning (HVAC) systems.
Funded by a $639,494 grant from the Iowa State Energy Program via the American Recovery and Reinvestment Act, the projects are expected to reduce DMACC's annual energy use by 16 percent and save the college $280,000 a year.
"Advances in technology have driven down the costs associated with purchasing and installing energy efficient equipment," says Mark Baethke, DMACC's director of facilities. "The money we received from the Recovery Act set the aggregate payback on our initial investments for these projects at a little over four years."
Upgrades going a long way
One project Baethke and his staff are currently undertaking is the installation of variable frequency drives (VFDs) and high efficiency motors in the HVAC systems on many of the campuses. By default, the electric motors that power HVAC units typically run at full speed, meaning the average HVAC system uses the same amount energy regardless of how high or low a building's thermostat is set. VFDs circumvent this problem, and allow HVAC systems to use less energy by automatically adjusting the speed of electrical motors to match the demand for heating, cooling and ventilation.
"Running an HVAC system without VFDs is like driving a car with the throttle pressed all the way down and then controlling the speed by pushing on the brake," says Baethke.
Baethke says that the college is also going to replace outdated boilers and chillers in the HVAC system on the college's largest campus in Ankeny. The project is too large in scope for DMACC staff members to complete on their own, so Baethke plans on hiring independent contractors to complete the installation.
Baethke and his staff are also undertaking a lighting retrofit project that consists of installing 1,500 occupancy sensors in the college's classrooms and replacing metal halide lamps in the college's gymnasiums with fluorescent lighting fixtures.
In addition to the savings, Baethke says the fluorescent fixtures will provide better quality light to gymnasium patrons. Other lighting projects include replacing incandescent and mercury vapor lamps with compact fluorescent and replacing old exit light fixtures with LED lamps.