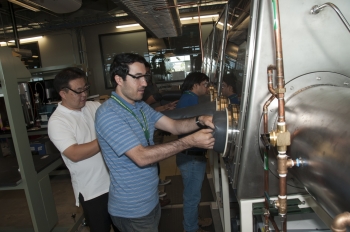 Participants in the 2012 Advanced Test Reactor National Scientific User Facility Users Week, held at Idaho National Laboratory in June. | Photo courtesy of the Idaho National Laboratory
At an Internet café, patrons pay money to use computers and connect to the Internet. That's what Advanced Test Reactor National Scientific User Facility Program (ATR NSUF) does for nuclear research.
Nuclear scientists can jump on a host of nuclear research machines and test new ideas through a network of unique facilities throughout the country.
The Idaho National Laboratory (INL)-based program works by connecting university teams with a national network of partners. Students and researchers can then access information on nuclear research reactors and other unique facilities to conduct promising experiments. Then, teams can conduct their research at facilities in one of two national labs and/or at one of eight university partners around the country. 
On Tuesday, the Energy Department announced $1.6 million for three university-led projects through the ATR NSUF. The awards were given to three universities:
Pennsylvania State University to monitor changes in nuclear reactor material properties
University of Illinois to evaluate the changes that steel experiences under radiation
University of Michigan to examine whether post-irradiation heating can reduce or eliminate cracks in steel, are helping to train and educate the next generation of nuclear energy scientists and engineers
The goal of the awards is to invest in research that addresses core challenges in the nuclear industry while training the next generation.
Since 2007, the ATR NSUF Program has invested more than $57 million in more than 40 experiments at the program's research reactor facilities. Over the past four years, the Department's Nuclear Energy University Programs have invested $219 million in 220 research projects at 79 U.S. universities and colleges, demonstrating its strong commitment to training and educating the next generation of leaders in America's nuclear industry.
The second set of awards announced on Tuesday, represents a $10.9 million investment that aims to solve common challenges across the nuclear industry and improve reactor safety, performance, and cost competitiveness. The 13 projects that are being funded are pursuing cross-cutting research that is designed to develop advanced materials that can be used in next generation reactors, such as in small modular reactors, which have compact, scalable designs that are expected to offer a host of safety, construction, and economic benefits.
All of these awards underscore the Obama Administration's commitments to restarting the nation's nuclear industry through investments in next generation technology and people and in promoting education in science, technology, engineering, and math.