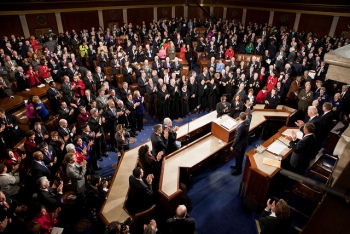 President Obama will deliver the State of the Union to Congress & to the American people tonight at 9pm ET. | Official White House Photo by Chuck Kennedy.
At 9pm ET tonight, President Obama will update Americans on the most important issues facing our country in his State of the Union Address. During his report to the nation, some remarkable guests will be sitting alongside First Lady Michelle Obama in the Capitol.
 
The list of invitees includes the following members of the science, energy and innovation sectors -- individuals that join a three-decade tradition of exceptional Americans that have been invited to join the First Lady in her viewing box.
Jack Andraka (Crownsville, MD) - Winner of the 2012 Intel International Science & Engineering Fair
16-year-old Jack Andraka from North County High School was awarded first place for his new method to detect pancreatic cancer at the Intel International Science and Engineering Fair 2012, a program of Society for Science & the Public. Motivated by the death of his uncle due to pancreatic cancer, Jack created a simple dip-stick sensor that can determine whether or not a patient has early-stage pancreatic cancer. His study resulted in over 90 percent accuracy and showed his patent-pending sensor to be 28 times faster, 28 times less expensive and over 100 times more sensitive than current tests. President Obama strongly believes that we need more students like Jack who are passionate about science, technology, engineering and math (STEM) and has hosted two White House Science Fairs to celebrate students participating in such competitions.  
Lee Maxwell (Wilton, IA) - Graduate, Kirkwood Community College Wind Technician Program
In 2012, Lee Maxwell graduated from Kirkwood Community College in Cedar Rapids, Iowa, where he gained 26 separate certifications in everything from reading blueprints to driving forklifts. Today, he's responsible for turning on the power for new wind turbines that are being built all around the country at Acciona Windpower. Kirkwood started its wind technician training program three years ago in partnership with Iowa-based Clipper Windpower, combining an industry-based curriculum and donated equipment to give students the hands-on experience they need to succeed.
Bobak Ferdowsi (Pasadena, CA) - Flight Director, Mars Curiosity Rover
Bobak Ferdowsi (aka NASA's "Mohawk Guy") is a member of the Mars Curiosity rover team at NASA and Caltech's Jet Propulsion Laboratory in California. After the successful landing of the Curiosity rover in August 2012, President Obama called to congratulate the team on their success, and singled out Bobak for his unique haircut that captured the imagination of millions of people around the world. The Curiosity rover is a car-sized robot equipped with a laser, chemistry set, and drill for assessing whether Mars ever had an environment able to support small life forms. Energy Department scientists helped develop the Multi-Mission Radioisotope Thermoelectric Generator, which is powering the Curiosity rover. Bobak is an Iranian-American and STEM professional that also volunteers as a FIRST robotics mentor to get more boys and girls excited about STEM education. 
Peter Hudson (Evergreen, CO) - Co-Founder and CEO, iTriage
Dr. Peter Hudson, the co-founder and CEO of iTriage, is a physician and entrepreneur with more than 15 years of experience founding and growing healthcare-related businesses. His focus has been on creating efficiencies within the healthcare delivery system, and empowering healthcare consumers with technology. Using open government data, Dr. Hudson launched iTriage in 2009, a company focused on prompting citizens to actively engage in their own healthcare. Through the app, an example of government inspired innovation, smartphone users can locate nearby providers based on their symptoms, make appointments, store their personal health records, save medication refill reminders, and learn about thousands of medications, diseases and procedures.
To watch President Obama's speech, tune in tonight at 9pm EST on WhiteHouse.gov to watch an enhanced version of the speech that will include visual data. Follow @ENERGY on Twitter for more energy highlights during the speech.