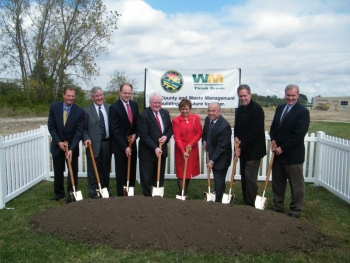 Will County, Illinois officials yesterday formally broke ground on a new $7 million project (that includes $1 million of Energy Efficiency Conservation Block Grant funds) to turn methane gas from the Prairie View Landfill into electricity in a partnership with Waste Management.
Will County will receive revenue from the sale of the gas created from decomposing garbage which will be harnessed and converted to generate 4.8 megawatts of green electrical power and used to power up to 8,000 homes. The future revenue generated from the sale of the gas and the sale of the electricity could reach $1 million annually.
County Executive Larry Walsh praised this partnership, acknowledging the importance of public-private partnerships in today's economic climate is greater than ever before. "With governmental entities across the country being challenged by declining revenues, I am proud Will County is able to benefit from this type of public-private partnership."
Will County Board Chairman Jim Moustis said the effort is a long time coming, and was included in the original siting of the landfill. The concept had been discussed over the years, but only came to fruition with the availability of EECBG funding through the American Recovery and Reinvestment Act. 
The county received 455 acres of the former Joliet Army Ammunition Plant, which closed in the 1990s, and began landfill operations in 2004. 
Andy Oare is a New Media Specialist in the Office of Public Affairs.