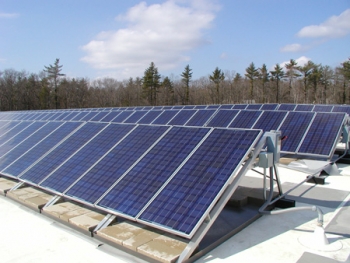 J.F. Electric will soon install its own solar rooftop solar panels, saving money and gaining a potential sales tool. | Photo Courtesy of J.F. Electric |
J.F. Family Limited Partnership has been awarded $191,000 through the Recovery Act toward the use of solar energy at its Lakefront Parkway property in Edwardsville, Ill., which is the company headquarters for J.F. Electric Inc. The funding will be used to install a 75-kW solar photovoltaic system on the building's roof, creating electricity on-site and creating or saving a total of 14 jobs.
J.F. Electric plans to have the installation of the panels finished by the end of summer 2010, which will help them begin saving $10,500 annually and help keep 69 metric tons of carbon emissions out of the atmosphere. Employees at the business have now been trained on the installation of solar panels and will perform the installation themselves this summer while also using the system as a teaching tool for others. Now, J.F. Electric can expand its services by offering solar energy installations for its clients.
"We're hoping to keep this going in the future so we can steadily increase our green workforce," Chris Amman, CFO, says. "We're working now to get additional projects to install solar panel systems on other companies' buildings, hopefully making this a permanent part of our business."
Chris also expects the company's new solar panels to be a great sales tool.
"One benefit is we can show potential clients these panels actually work — it's way easier to sell something when people can see that it works," he says. "You come over a hill to get to our building from the south, so you'll be able to clearly see [the panels] there standing out."
The installation of solar energy will allow J.F. Electric to save on operating costs, and it's giving the company a new avenue through which to explore extending the impact of renewable energy to all its clients.