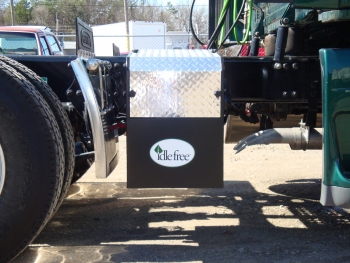 Idle Free System's frame rail unit mounted onto the chassis rail of a truck. Idle Free produces battery-powered, idle-elimination systems that lower fuel costs and CO2 emissions while retaining power to a truck's cab. | Courtesy of Idle Free Systems.
For truck drivers who must spend nights on the road, discretionary idling is a way to make bunks livable for drivers when they take a break. But while idling offers a "hotel" solution for drivers, it becomes expensive when accounting for fuel costs, routine engine maintenance and engine wear-and-tear, not to mention the adverse effects idling can have on the environment.
Idle Free Systems, Inc. -- a Wisconsin small business established in 2006 -- produces battery-powered, idle-elimination systems that lower fuel costs and CO2 emissions while retaining power to a truck's cab.
Robert Jordan, founder and owner of Idle Free Systems, worked as a truck driver for 20 years before he began building and selling the first of Idle Free's technologies -- a system that captures energy from the refrigerator unit of a truck's trailer and repurposes it to meet drivers' needs during their rest period. Since then, Idle Free has created several adaptations of this technology, including a battery-based system that captures excess energy from the alternator when the engine is running. When the truck is off, the battery provides a constant source of electricity identical to what is delivered to homes for regular use.
Discretionary idling for a typical fleet sleeper truck can consume as much as 3,000 gallons of diesel per year. Depending on diesel prices, this means the Idle Free technology can deliver annual savings of up to $10,000 for drivers just by reducing fuel consumption and fuel-related costs -- in addition to reduced maintenance costs and fewer oil changes.
Wisconsin-based Idle Free Systems received nearly $1.2M from the Energy Department's State Energy Program (SEP) to expand production of their idle elimination solutions through the Recovery Act, and expects to create 20 jobs from the investment. But Wisconsin's efforts to assist state manufacturers in decreasing cost and energy consumption don't stop there. Wisconsin is the only state to invest 100 percent of its Recovery Act funding to help state manufacturing companies, and to date, has created over 1,000 jobs, maintained over 4,000 jobs, and leveraged their Recovery Act funds 2-to-1 in private investment.
Wisconsin has supported the retooling of 12 manufacturing facilities for a total of 625,000 square feet for clean energy products. Across the country, many state manufacturing companies like Idle Free Systems have benefitted from State Energy Program funding under the Recovery Act, creating jobs while helping save energy and money.