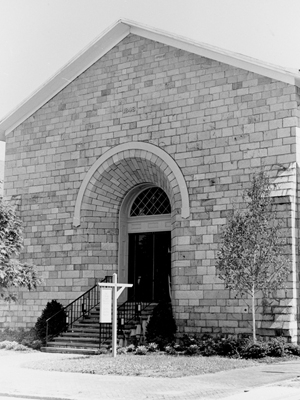 A new heating and cooling system at Chester County Historical Society's history center is saving the organization about $27,500 a year. | Photo Courtesy of CCHS
For years, Chester County Historical Society (CCHS) officials tried to make due with an inefficient, outdated HVAC system at its 50,000 square-foot facility in West Chester, PA  Designed and installed in 1978, the system was breaking down, costing the nonprofit thousands of dollars a year in maintenance fees. 
This past spring, the system failed."We were operating on borrowed time," says Kim Hall, president of the historical society.
With financial support from a $250,000 PA Conservation Works! grant – funded through the federal Energy Efficiency and Conservation Block Grant program and the Recovery Act – CCHS purchased a new Desert-Aire HVAC system Several foundations and private donors paid the remaining costs of the $580,000 project.  According to CCHS, the system is expected to save the organization about $27,500 annually.
The multi-phase project was completed just as summer's hottest days approached and was installed by Brandywine Valley Heating and Air Conditioning of West Chester. "They were our saviors," Hall says.
Preserving history
The upgrade is a relief to CCHS officials, who were concerned the old system's faulty climate controls would result in damaging centuries-old collections at the history center's Horticultural Hall.   "It was a very important stewardship matter," Hall notes.
 
Constructed in 1848 by famed architect Thomas U. Walter, designer of the U.S. Capitol's dome, the hall hosted Pennsylvania's first women's rights convention and speeches by Frederick Douglass and Elizabeth Cady Stanton.
The building is home to exhibits featuring Chester County furniture dating back to the 1700s including tall case clocks and spice boxes. The new system is guarding these artifacts by keeping temperatures stable and moisture down.
More education
The project has helped CCHS' bottom line. The constant repairs on the old system took a toll on the annual operational budget, costing CCHS over $4,400 in 2008."We lowered our maintenance expenses," Hall says. "Our overall energy consumption is lower," she adds.
 
CCHS anticipates the energy savings will enable the organization to spend more on its educational mission including school and youth programs, lectures, seminars and workshops. 
The project created three full time jobs during the system's installation and CCHS hopes the savings will eventually lead to increased staffing. "It's an important part of the overall plan to get people back to work," according to Hall.
Cutting costs…and noise
The energy efficient and low maintenance HVAC system also has an unexpected benefit. "From a noise pollution perspective, it's much better," Hall says. When the previous system switched on, it would make a "monstrous" sound, she says. The new system is quiet, humming at 72.3 decibels, which is roughly the same level as a normal conversation.
CCHS is looking to find even more ways to conserve energy. "We are going to get a lighting assessment done and re-lamp as much as possible," says Hall.
The HVAC project has made a significant impact as CCHS continues to preserve Pennsylvania's history and culture. "The importance for us is the maintenance of the collection and the ability to remain open to the public," Hall notes.  "The ability to have good environmental controls is what we are about."