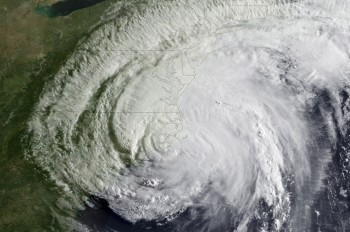 Hurricane Irene made landfall on the coast of North Carolina as a Category 1 hurricane during the 2011 Atlantic hurricane season. It was the ninth named storm, first hurricane, and first major hurricane of the 2011 hurricane season. | Photo courtesy of the National Oceanic and Atmospheric Administration.
Hurricane season in the Atlantic began Friday, and will last until November 30. While the peak of the season falls between August and October, already the Energy Department stands at the ready to play its part in preparing for and recovering from these types of storms.
In its outlook for the 2012 Atlantic hurricane season released last month, the National Oceanic and Atmospheric Administration (NOAA) predicted a near-normal hurricane season in which there is a 70 percent chance of nine to 15 named storms with winds of 39 mph or greater. Of those storms, NOAA predicts four to eight will strengthen to a hurricane with winds of 74 mph or greater and, of those, one to three will become major hurricanes with top winds of 111 mph or greater.   
During this season of uncertain weather, being prepared is crucial. If a major energy supply disruption were to occur as a result of a hurricane, the Energy Department plays a vital role: coordinating with the energy sector and managing federal responders that specialize in energy infrastructure and systems who can quickly activate and deploy to the disaster site.
During such an event, the Office of Electricity Delivery and Energy Reliability (OE) coordinates with deployed personnel, other Energy Department offices, and other federal, state and local agencies in responding to the emergency. We also publish Situation Reports that provide details on the storm's impact to an effected area's energy sector, and the recovery and restoration activities being undertaken.
It also coordinates with the electricity sector, which prepares for hurricanes by bringing in additional crews, preparing equipment for emergency restoration work, keeping utility contractors on call and ensuring that additional supplies such as poles are on hand to promptly respond and restore service should the storm result in outages.  
As NOAA and the Federal Emergency Management Agency (FEMA) emphasize, it is essential that you and your family also be ready before a storm approaches. For example, it's important to know that the hazards of hurricanes can include storm surges, heavy rainfalls, inland flooding, high winds, tornadoes, and rip currents. The NOAA and FEMA's "Are you Ready" websites are invaluable sources of information, including links to safety tip videos.