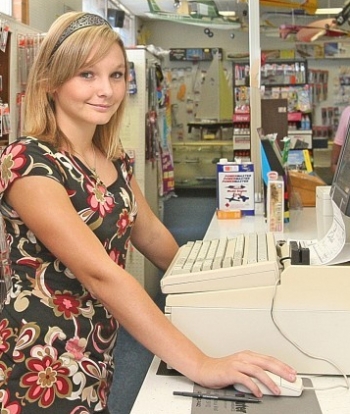 Mikayla Nelson | Photo courtesy of the Billings Gazette
The faces of America's future success in science and engineering are everywhere. She might be the friendly employee at a neighborhood store... or be seated with the First Lady at the State of the Union.
In the case of Mikayla Nelson, she's both. Last night, the high school freshman from Billings, Montana was seated next to the First Lady. Mikayla earned her place there – as well as personal recognition from the President – by leading her team to a first place finish at the Department of Energy's National Science Bowl for the design document of their solar car.
During her visit to D.C., Mikayla came by the Department's headquarters and met with Secretary Steven Chu and Director of Science Bill Brinkman. She also answered a few questions about her experiences and inspirations.
Mikayla is aiming for the U.S. Air Force Academy and a career in mechanical engineering. She said she was inspired by her 6th grade teacher, Patrick Kenney, and his bridge contest. Students were given 100 Popsicle sticks and asked to assemble a bridge, to which weights would be added until it broke. That was the idea at least... until Mikayla came long. She said, "[My] bridge never broke. After 606 pounds, we ran out of weights."
Mikayla still has the bridge, and she still loves to build. She's restoring a VW Beetle, constructing a Pietenpol Sky Scout airplane, running a birdhouse business, taking karate lessons and working at Billing's Central Hobbies to pay for tuition at a private school. She's also taking flying lessons, hoping to solo by sixteen and earn her license at seventeen. Of flying she said, "It's a rush. I love it."
Patrick Kenney, a member of the Billings chapter of the Experimental Aircraft Association, has encouraged Mikayla in her aviation and scientific aspirations. It wasn't easy – Mikayla laughingly said she had to bug him for about two months before he finally let her hang out at the hangar. But Kenney has become a great supporter of Mikayla's. She said, "He really puts the time and energy into you – I strive to make him proud. He devotes himself to helping people. He's amazing."
Mikayla has had many other mentors and role models, including Gemini and Apollo astronaut Frank Borman and his wife Susan. The Bormans, who have a cattle ranch in Custer Montana, invited Nelson and the members of the Science Bowl team for a visit last spring.
Notwithstanding those outstanding models, Mikayla's motivation comes from inside. She said, "I love, and have a passion for chemistry and physics."
Unfortunately, few of her peers share that passion. She said she agreed with President Obama's call for more scientists and engineers at the State of the Union, adding, "We need more scientists – we need a lot more female scientists."
Mikyala's doing her part. She's passing on her love of the Science Bowl by serving as coach for the team at her local junior high. She said "I'm so jealous I'm not on their team. They've got really good engineers on their team – they're really smart."
Mikala's also serving as an inspiration to others, not only in a passion for the sciences, but in the hard work necessary to succeed in this competitive world. She said, "You can't wait for things to happen... If you work hard and don't expect things to happen, they're going to happen."
As Mikayla said, "Success is kind of addicting." She's a face of America's future successes in science and engineering; a reminder of our promise and potential as a people; and an outstanding example of the talent that's actively winning our future.
For more information on the Office of Science, please go to: http://www.science.doe.gov/.
Charles Rousseaux is a Senior Writer in the Office of Science.