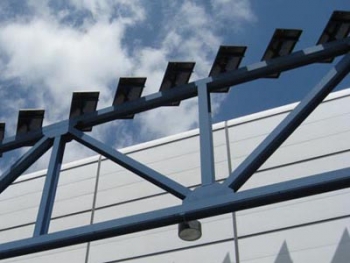 Houston is a Solar America Cities participant. | File photo
Texas has been a bastion for oil, and while the imagery of oil wells may never be erased from many minds, the reality is that the state is emerging as a leader in developing the new, clean energy economy.
Of the 25 cities designated by the U.S. Department of Energy as Solar America Cities, three are in Texas. DOE named Austin an award recipient in 2007, and Houston and San Antonio followed in 2008.
Houston is charting a plan to make solar energy cost-competitive by 2015. Through SAC, the city is identifying high-visibility locations for solar energy systems, three of which have already been installed. In July, the city activated solar at the George R. Brown Convention Center as part of a pilot project that could lead to a solar panel installation that covers the entire 16-acre convention center roof. This is one of many projects in the city that is installed in a high-visibility area to raise awareness about solar energy.
"Outreach is a big part of it, along with fully understanding how these technologies work in the Houston environment," Richard Haut, senior research scientist at the Houston Advanced Research Center, says. "We don't have the clear, crisp skies like some places — there's a lot of moisture in the air from the Gulf and then, with the location so close to a major freeway, there is particulate matter in the air. The project provides us with a great research opportunity to monitor the long-term environmental effects."
At the convention center, John Harris, division manager for corporate affairs and marketing, says thousands of convention attendees have witnessed the solar installations since August 2009.
"It's been successful in educating people about the possibilities of solar power and will go a long way toward helping us understand which type of solar devices are best for this part of the country," he says.
The city that was once home to a football team named the Oilers is now making a widespread effort to get in the solar energy business.