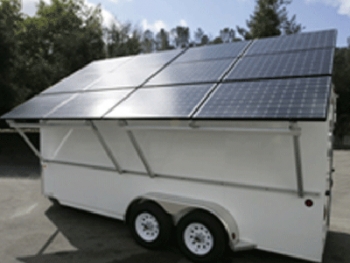 Solar generators like this one will provide electricity to Houston residents after hurricanes and other emergencies. | Photo Courtesy of City of Houston
The situation was both inconvenient and dangerous, as residents were unable to charge devices such as cell phones and medical equipment that are critical in emergency situations. After Hurricane Ike struck Houston, Texas in September 2008, some city residents went without electricity for more than two weeks.
Finding a solution
In preparation for future emergency situations, city officials are using a $3 million grant from the Texas State Energy Conservation Office via the Recovery Act to purchase 24 mobile solar generators. The generators will be strategically deployed during emergency situations to provide residents with access to electricity.
Houston sits about 25 miles west of the Gulf of Mexico and is susceptible to damage caused by hurricanes and tropical storms.
Gavin Dillingham, the director of sustainable growth for the city's General Services Department, says the generators will be mounted on mobile trailers and function like giant power strips on wheels.
"Each generator will have a number of outlets that residents can use to charge devices such as cell phones and oxygen nebulizers," says Dillingham.
When the generators are not being used in emergency situations, they will be hooked up at fire stations across the city to help offset electricity consumption. Each generator is capable of generating 24 kWh of electricity per day, meaning they will reduce the city's weekly electricity use by 4,032 kWh.
Dillingham anticipates the generators will be ready for use by January 2011, several months before next year's hurricane season begins.
Promoting solar energy
Dillingham says officials also plan to deploy the generators at citywide events such as the Houston International Festival and Earth Day to raise awareness about solar energy.
"Our office has partnered with the Houston Advanced Research Center to develop educational materials that describe the benefits of solar technology and the state of the solar market in Houston," says Dillingham. "At city events, the generators will get people's attention, and volunteers will hand out information about solar technology."
Houston is one of the U.S. Department of Energy's (DOE) 25 Solar America Cities. City officials are working in conjunction with DOE to promote the adoption of solar energy technologies.
"The primary goal of this project is to provide power in emergency situations, but promoting the use of clean solar energy is an added benefit," says Dillingham.