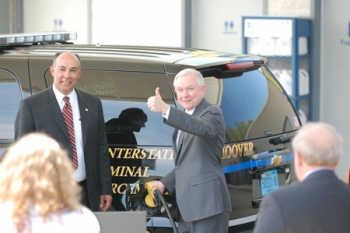 Mayor Petelos and Senator Jeff Sessions filling up a Hoover Police Tahoe with certified fuel made from Hoover's very own wood-waste last year. | Photo courtesy of Lori Salter |
When Tony Petelos became the mayor of Hoover, Alabama in 2004, the police fleet was run down. Within the next year, Petelos, with support from the community, called for a big change: switch out the old police fleet with new, flexible-fueled vehicles.
Flexible-fueled vehicles are specially designed to run on gasoline or any blend of up to 85 percent ethanol. The fleet is now made up of nearly 200 cars and more than 150 equipment vehicles, with 88 percent of the fleet running on either biodiesel or corn ethanol.
Mayor Petelos says that most cars run on corn ethanol, while the equipment and utility vehicles are powered by biodiesel from various programs around Hoover.
"The car has a lot of pick-up and go," says Petelos. "It accelerates extremely well and has a lot of power. The officers seem really happy with them."
Hoover buys their corn ethanol from a mid-west company, and since beginning the program, the fleet has driven more than 14 million miles on corn ethanol.
For a brief period, Hoover outsourced wood waste to Gulf Coast Energy, a company that converted waste wood into biofuel. In 2009, Hoover powered their police fleet using the town's very own wood waste.
Although the city is no longer working with the company, Petelos thinks it was a great relationship. "It was a neat story that our own wood waste fueled our police cars. It made a great circle. We hope that we can work with Gulf Coast Energy again in the future."
The city of Hoover was not alone in the efforts.  The city had support from the U.S Department of Energy (DOE) Clean Cities coalition and Alabama Clean Fuels. Clean Cities is an initiative of the DOE's Vehicle Technologies Program, whch  provides technical assistance to local coalitions on alternative fuel and fuel efficient vehicles.
Cooking-oil powered trolleys
Since switching the fleet over, the city has also implemented a residential recycling program for used cooking oil. Residents drop off used cooking oil at any fire station in Hoover, and it's taken by an outside company to be processes into biodiesel.
"Over the last three years, 32,000 gallons of used cooking oil has been made into fuel in Hoover," says Petelos. "The residents of the city have really bought into this program."
Hoover has two trolley vehicles and several other vehicles that often make appearances for community events. Since the cooking oil program started, these trolleys are now powered from the resident's cooking-oil biodiesel.
"There's a lot of waste materials out there that can be converted into fuel," Petelos says. "When we see what's going on in the Gulf Coast right now, it's important to find funding and support for these alternative options."
Editor's note: This story was modified on July 14, 2010 to include information about DOE's Clean Cities coalition and Alabama Clean Fuels.