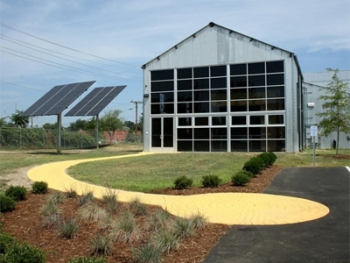 Richmond and Chesapeake Bay Railway Car Barn will serve as an example of green building in the community. | Photo by Julie Wescott Weissend
Dovetail Construction Company saw a unique challenge – and opportunity - with a neglected 1880s-era Richmond and Chesapeake Bay Railway Car Barn.  How could the company preserve the characteristics of the historic electric railroad car barn and still make it a showcase for energy generation and energy efficiency?
The answer was to construct a "net-zero" building within a building and preserve its historic character, says Julie Wescott Weissend, vice president of the Richmond, Va.-based construction company.
For Dovetail, keeping the electric railroad barn's late 19th century look was a top priority.
"This is a really important historic building for the community," says Wescott Weissend. "We wanted to preserve that part of it—it's nice to have some touch point back to what the city used to look like."
The transformation from a car barn to a new, eco-friendly building wasn't easy, but Dovetail Construction was up for the challenge. Just to maintain the historic integrity, the damaged exterior was replaced with almost identical materials. 
From least to most energy efficient
"The building was definitely the most 'energy-inefficient' building that I've ever seen," says Wescott Weissend. "This neighborhood was in desperate need of some alternative energy. We really wanted to make this building a model for what we believed in."
The building is net zero energy—meaning that is producing more energy than it is consuming. Next to the building stand two ground-mount solar arrays with combined capacity of six kW, which produces more energy than the building consumes. The building also uses two new geothermal heat pumps for heating and cooling.
"The reality of this is even better than we'd hoped," says Paul Weissend, president of Dovetail, who also notes that the building is proposed platinum LEED certified. 
In addition to its net-zero power consumption and geothermal technology, the building itself is made from sustainable materials. The floors on the first level of the building are polished concrete, and some of the second level floors are made from cork. Countertops are made from aluminum scrap, reclaimed pine flooring and recyclable stainless steel. Any accent shelving in the building is made from salvaged timber that was on the original building site.
Community model
Dovetail plans to use the new building as its new headquarters, and a way to show the many different ways to build green.
"A lot of customers and clients will say they want something green, but they don't really know what it means. In this building we've touched on anything green most people can think of, so we're using this as a tool to educate our clients, architects and community members about green buildings," says Weissend.
Although Dovetail Construction Company fronted the initial cost of the renovation, the company is getting federal and state level solar credits and a federal tax credit for the geothermal system. Dovetail is also receiving federal and state historic tax credits as well.
"We can take an inefficient building, and with the help of some of these programs, turn it into a super efficient building. If you can do it with this building, you can do it with any building," says Weissend.