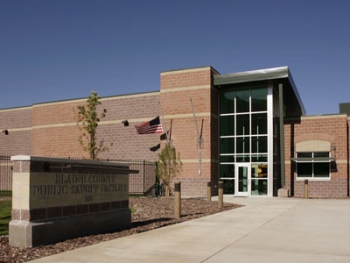 The Blaine County Public Safety Facility houses between 60 and 80 prisoners and roughly 30 staffers. | Photo courtesy of Blaine
In Hailey, Idaho, one 330,000 square foot building - the Blaine County Public Safety Facility - accounts for the county's highest operational costs for its government buildings. At any given time, it houses between 60 and 80 prisoners and nearly 30 full-time staff members, including from the sheriff's office.
"Any cut we can make in these costs is significant," says Lawrence Schoen, Blaine County commissioner. "This grant was a way to offset some of the higher costs associated with the jail."
Using funds from the American Recovery and Reinvestment Act, the county is installing a solar thermal hot water system this fall that will provide nearly 70 percent of the BTUs required for heating 600,000 gallons of water for the jail annually, saving the county more than $4,000 a year in electricity costs at current rates.
The Energy Efficiency and Conservation Block Grant of nearly $94,000 went to planning, purchasing and consulting for the system. The solar thermal hot water system will have 17 panels, and will be the largest commercial installation in southern Idaho. In addition to its high operational costs, the building was selected because it is new and its structure is sound and known, says Schoen.
"We'll get the most return for a facility like this over its full useful life," says Schoen.
Setting an example
The facility is located on a road that leads to a busy airport and an important health clinic, says Schoen. "If you're traveling that way, you can't help but pass the facility."
Shana Sweitzer, Blaine County planner, hopes that the location of the building will encourage Idahoans to think about energy efficiency.
"This is a really big step for Idaho. This investment will provide long term, continual savings for the local county government," says Sweitzer. "It's a great statement about what the government can do to help save tax payers money and reduce energy consumption."
The facility is using about 130,000 gallons of water a month — more than two full Olympic-sized swimming pools a year — and a little less than half of the water, about 50,000 gallons, needs to be heated. During summer months, the system will provide the majority of energy to heat the roughly 50,000 gallons of water, and will have to rely on additional energy sources during the winter months.