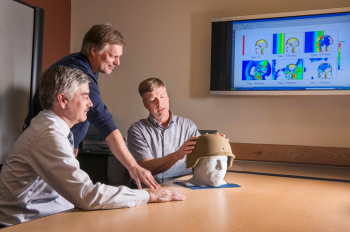 Paul Taylor, right, and John Ludwigsen, center, both researchers with Sandia's Terminal Ballistics Technology Department, and Corey Ford, a neurologist at the University of New Mexico's Health Sciences Center, discuss their research on traumatic brain injuries. | Photo by Randy Montoya
Improved body armor and other military technologies are helping warfighters survive battlefield wounds from shrapnel and bullets, but there's still little that can be done to protect them from the blast waves produced by explosions that cause traumatic brain injury (TBI).
Even with advances in military technology, there's no way to deflect or blunt those waves, though studies like the one conducted by Sandia National Laboratories and the University of New Mexico can help identify these threshold levels of stress and energy that cause TBI. These findings could help to design better helmets and warning systems that could alert wearers they might be at risk for the debilitating condition.
Paul Taylor and John Ludwigsen of Sandia's Terminal Ballistics Technology Department and Corey Ford, a neurologist at UNM's Health Sciences Center, are comparing supercomputer simulations of blast waves to clinical analyses of patients who have suffered such injuries.
Immediately following blast waves, soldiers can suffer brief losses of consciousness, but more damage evolves weeks later, Ford said. The symptoms — headaches, memory loss, mood disorders, depression and cognitive problems — can prevent sufferers from working.
Blasts like the ones from roadside bombs or blunt impacts occur within the first 5-10 milliseconds, long before a victim can react. (Humans' fastest reaction times as teenagers are 75-100 milliseconds.)
At Sandia, researchers created a computer model of a man's head and neck. The model includes the jaw — another first in TBI research — because a lot of blasts come from improvised explosive devices (IEDs) at ground level, sending waves traveling at the speed of sound through the jaw and facial structure before they reach the brain.
Using images of the male, whose age was close to that of most military personnel, Taylor, with Ford as a medical consultant, created geometric models of the seven tissue types in the human head — scalp, bone, white and gray brain matter, membranes, cerebral spinal fluid, and air spaces. 
Taylor imported digitally processed, computed tomography (CT) scans of various helmet designs into the simulations to assess the protective merits of each against blast loading.
The 3D simulations are visualized using two-dimensional multi-colored images of a man's head that record an enormous amount of data. Taylor and Ford have focused on three types of energy entering the brain that may cause TBI: compressive isotropic energy associated with crushing; tensile isotropic energy that tends to expand parts of the brain and could lead to cavitation; and shear energy that causes distortion and tearing of soft tissue. The pressure and stress within the brain show up as colors moving in slow motion through and around the brain cavity on videos created from the simulations.
 "Our ultimate goal is to help our military and eventually our civilian population by providing guidance to helmet designers so they can do a better job of protecting against some of these events we are seeing clinically and from a physics perspective," said Taylor, Sandia's principal investigator on the project. "To do that we've got to know what are the threshold conditions that correlate with various levels of TBI."