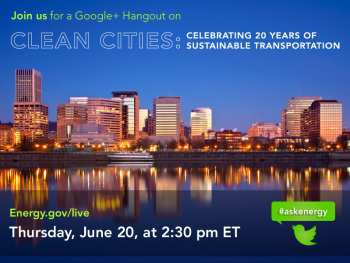 Mark your calendars for a Google+ Hangout on Clean Cities: Celebrating 20 Years of Sustainable Transportation. | Photo courtesy of the Energy Department.
For two decades, the Energy Department's Clean Cities program has supported local actions to reduce our nation's oil consumption in transportation. Through community-based coalitions, Clean Cities is engaging public- and private-sector stakeholders to deploy alternative fuels, idle-reduction measures and fuel economy improvements, and they are having a real impact. Since 1993, Clean Cities coalitions have helped save nearly 5.4 billion gallons of petroleum.
To celebrate Clean Cities' 20th anniversary, we have been highlighting the work of some of the local coalitions -- from helping communities prepare for electric vehicles to working with fleet owners to switch to liquefied natural gas. Now is your chance to hear directly from local coalitions and ask questions about what is happening across the nation and in your community to reduce our dependence on oil for transportation.
Join us Thursday, June 20, at 2:30 pm ET for a Google+ Hangout on Clean Cities: Celebrating 20 Years of Sustainable Transportation. The live discussion will be streamed on Google+, YouTube and energy.gov/live.
National Clean Cities Co-Director Linda Bluestein will moderate the discussion and talk about Clean Cities' past accomplishments and vision for the future. Bluestein will be joined by:
Sam Spofforth, Clean Fuels Ohio. Under Spofforth's leadership, Clean Fuels Ohio supports more than 270 alternative fuel and charging stations, and reduced nearly 50,000 tons of carbon dioxide in 2011 alone.
Lisa Thurstin, Twin Cities Clean Cities Coalition. Thurstin is well known for collaborating with stakeholders on campaigns to advance the use of cleaner, alternative fuels and helped her coalition save more than 15 million gallons of gasoline in 2012.
Phillip Cameron, Yellowstone-Teton Clean Energy Coalition. One of the few rural Clean Cities coalitions, the Yellowstone-Teton Clean Energy Coalition operates across a large geographic area and works with both Yellowstone and Grand Teton National Parks to reduce the environmental impact of vehicles in the parks.
Stephanie Meyn, Western Washington Clean Cities Coalition. Meyn has organized a number of innovative efforts across Washington State, including deploying more than 240 compressed natural gas and propane taxis. This project has helped displace 50,000 gallons of petroleum a month and reduce fuel costs for taxi drivers.
We will be taking your questions in advance and during the Hangout. Submit your questions by emailing newmedia@hq.doe.gov, posting comments on the Energy Department's Facebook page or Google+ event, or tweeting @ENERGY using #askEnergy. Be sure to tune in to talk about how communities across the U.S. are helping reduce our oil consumption.
Q&A
Want to know what we are doing to cut the nation's oil use in transportation?
Ask Us