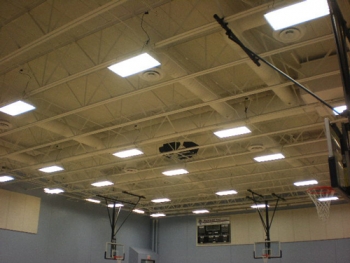 By replacing T-12 lights with more efficient T-8 units, Texas City will save 65.5 kW each year. | Courtesy of the City of Texas City, Texas
In Texas City, an Energy Efficiency and Conservation Block Grant (EECBG) awarded last year has already been utilized to start saving the Texas Gulf Coast city money by installing more efficient lights and applying UV reduction films to windows.
Nick Finan, director of management services, said the city had already been working with Texas-New Mexico Power Company to find ways to reduce their energy load when they received the $191,600 grant, under the American Recovery and Reinvestment Act. The city had been encouraged by the power company to investigate potential energy savings, and what they found was that using more efficient lighting could make a big difference.
"We evaluated city hall, the convention center, the police station, the gym...they told us if we could switch lights out, we could see the most savings," Finan says.
By December, the city had utilized $125,000 of the Recovery Act funding to replace most of the buildings' fluorescent T-12 lights with high-efficiency T-8 bulbs.st instances two or three energy efficient lights replaced four less efficient lights. "For the most part we maintained t
They worked with Houston-based XtraLight to do the replacements. In mohe same lighting levels but were able to do so with less lights and more energy-efficient ballasts," Finan says.
By replacing the lights in City Hall, the Doyle Convention Center, the police station and the Lowery Gym, the city estimates saving a cumulative 65.5 kW or 222,000 kWh each year. "Already we've noticed some savings in the earlier months," Finan says, though the exact savings have not been determined yet.
An additional EECBG-funded project was the application of a UV reduction film to windows of city buildings, including the criminal justice building, City Hall and the Doyle Convention Center. UV reduction film lessens the radiant heat entering buildings through the windows.
The film manufacturer estimates that the film will reduce City Hall's energy use by 41,100 kWh and will save the building more than $4,400 in electricity costs annually. Between the three buildings combined, the city is expected to save about $17,320 in electricity costs annually.
 
This project also comes with an additional benefit given Texas City's hurricane-prone location on the Gulf Coast.
"[The] window film will strengthen the window and the cover will reduce glass from shattering if broken," says Finan. "We found the window film as an added bonus to the energy savings."