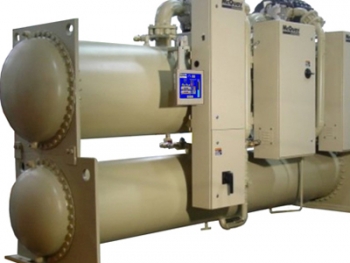 A new federal tax credit is helping McQuay International expand its line of energy-efficient HVAC products at two of its plants and bring back furloughed workers.
With the help of a 48C manufacturing tax credit worth $2 million under the American Recovery and Reinvestment Act, McQuay's Minnesota and Virginia plants have been or will be upgraded and expanded to produce new lines of energy efficient products.
The tax credit is playing a role, but offering a bigger—and more efficient—selection of HVAC products also came down to basic economics: the customers were requesting it.
"There is strong appetite for this," says Don Winter, vice president of marketing at McQuay, which is based in Minneapolis. "Almost across the board, we are launching multiple new product families that are more energy efficient than their predecessors. We see it is an important trend for us."
The $7 million investments started last year at the Staunton, Va., plant, which expanded operations to manufacture a new line of air-cooled chillers, some of which are up to 50 percent more efficient than its standard model. "In fact," Winter says, "now we have five different efficiency levels."
Plans for new construction and equipment upgrades at the Minnesota plant are also underway.  This facility will be expanding its line of energy-efficient, roof top HVAC units.
All these products can contribute to multiple LEED points for a building and save companies thousands of dollars per month in electric bills.
More about the 48C
The U.S. Department of Energy and U.S. Department of the Treasury partnered to help fund more than 180 clean energy manufacturing projects through the 48C tax credit. The funds will be used to produce solar panels, wind turbines, geothermal equipment and other clean energy projects, like energy-efficient HVAC units—putting the country on track to double capacity to manufacture these components by 2012.
Crawford Condominiums in Portsmouth, Va., a 19-story complex built in the 1960s, achieved a savings of $3,000 a month in electrical costs after two of McQuay's chillers were installed, according to McQuay.  Herakles Data of Sacramento, Calif., a data processing center, installed five modular central plant systems (a chiller, cooling tower and water treatment system all in one) and saw a 22 percent reduction in energy use. That reduced energy usage earned the company a $50,000 rebate from the Sacramento Municipal Utility District.
New products, new jobs
2009 was a challenging year for McQuay due to the economy, but the recent investments are allowing the plants to take on new—and old—employees.
Winter says the Virginia plant has brought back furloughed workers and hired new employees as a result of the expansion and tax credit.
The Minnesota plant also had a series of furloughs last year. The new manufacturing investment could turn that around. "It is our desire and hope that this creates jobs," he says.
LEED-er status
The company may be giving the people what they want, but its own environmental policy is worth noting.
Winter says the company is always looking for ways to minimize operating costs and cut down on energy use by investing in more energy-efficient equipment for all its plants.
This week, the office space at the Staunton facility earned the LEED silver certification, in part by using McQuay's own energy-efficient rooftop system to reduce energy used in the engineering wing and by reducing its water consumption by 40 percent.
"We want to practice what we preach," says Winter.