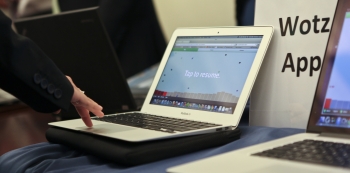 At the White House Energy Datapalooza in October 2012, developers showcased new apps that help consumers harness and interpret their energy use data. The expanding Green Button movement will make apps like these more ubiquitous. | Photo by Sarah Gerrity, Energy Department.
More utilities across America are getting behind Green Button, the common-sense idea that consumers should be able to securely and simply download their own energy usage data. The growing momentum around Green Button -- which follows a White House call to action -- is spurring development of innovative apps and products that allow people and companies to better monitor their energy use and save money. 
To date, 34 utilities in 17 states and the nation's capital have said they will make their data more accessible and user-friendly. Companies are already developing web- and smartphone-based applications and services that use Green Button data to help consumers save money and learn more about energy efficiency.
During the Green Button Developer Day held in Silicon Valley in June, representatives from the White House, the Energy Department, the National Institute of Standards and Technology (NIST) and the Silicon Valley Leadership Group, as well as more than 250 Green Button enthusiasts, gathered to discuss new ideas. Karen Austin, CIO of Pacific Gas & Electric, discussed the California Public Utilities Commission's recent decision on customer data access. The decision allows California's three largest utilities -- PG&E, Southern California Edison and San Diego Gas & Electric -- to launch Green Button Connect. When authorized by the consumer, Green Button Connect allows third parties to securely access a consumer's energy data, opening the door for new apps and services that can help consumers save energy and money.
With Green Button gaining more traction, ensuring interoperability between all of the products and services is vital. During the June event, an agreement was reached to create a Green Button Testing and Certification program.
In another positive development, four additional utilities recently completed their implementations of Green Button: Connecticut Light & Power, Western Massachusetts Electric, Public Service Company of New Hampshire and Yankee Gas in Connecticut. These four utilities now offer Green Button data to approximately 2 million people across New England.  
Over the next year, even more utilities are expected to jump on board with Green Button, allowing millions more Americans to easily access their energy usage data. Armed with this information, people and companies will be empowered to make more informed decisions about their energy use -- from verifying the promised cost savings of energy efficient upgrades to modifying energy use patterns. The end result: saving energy and money.
To learn more about DOE's efforts to modernize the nation's electric grid, visit the Office of Electricity Delivery and Energy Reliability's website.