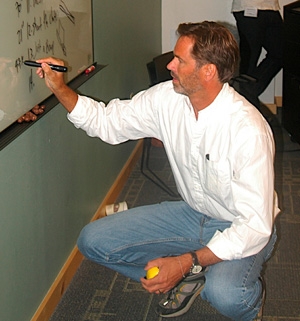 Andrew Hargadon teaches a workshop at Green Technology Entrepreneurship Academy in Incline Village, Nevada.
| Photo Courtesy of University of California, Davis
Before wading into the green energy sector, there are crucial things every budding entrepreneur should know:  think like an investor, know your customer, and prove your research is going to solve a problem.
 
To the business-savvy this advice may seem obvious, but for the academic-minded attending the Green Technology Entrepreneurship Academy, these nuggets are priceless.
"We give scientists the language of commercialization," says Andrew Hargadon, a founder of the academy and faculty director at the Center for Entrepreneurship at the University of California, Davis. "We help them translate their own research into commercial terms, and - at the same time - give them a network of investors, entrepreneurs, utilities, and other major companies to work with."
To help bridge the gap between the laboratory and boardroom, Andrew leads a five-day green academy workshop for people looking to take their inventions and ideas to the marketplace. The workshop is presented by the UC Davis Center for Entrepreneurship and sponsored by NIREC, PG&E, Chevron and Superfund Research Program.
After a week of "Green TEA" at Sierra Nevada College in Incline Village, Nevada, Mark Mascal felt more confident about his patented technology.Green Technology Entrepreneurship Academy is in its fourth year and puts 50 participants—ranging from PhDs to post-docs to professors—through a curriculum that focuses on networking, market validation, and development strategies.  Workshop attendees from around the world gain what Andrew calls "intellectual and social capital" to help them move their research out of the lab. "It's about making entrepreneurs," he says.
Mark, a chemistry professor at UC Davis, is part of a team devising a technique that converts plant oils and carbohydrates into biodiesel in a single process. Their method increases yields by almost 25 percent and produces a fuel that performs better over a wider range of temperatures than other biodiesels.
"You're just a little more savvy about how to talk to potential licensees of your technologies," says Mark, an academy graduate from 2009. "We are still progressing the science quite a bit, but now when companies contact me, I have a better feel on how to protect the [intellectual property], and how to enter into negotiations. I would have been quite naive in the past."
Face time with various industry leaders was a huge help for Mark. On the workshop's last day, students take what they learned and pitch their products to a panel of investors and industry executives, which includes representatives from leading solar, wind and biomass companies.
"It was like speed dating in a way," he says. "You get to talk to a lot people who can give you a lot of advice from a number of different perspectives."
Other successful products from past graduates include Micromidas, a technology that converts organic waste into biodegradable plastics, and Driptech, a field-ready drip irrigation system that increases water efficiency for people living in developed countries.
For more information on the Green Technology Entrepreneurship Academy, visit http://entrepreneurship.ucdavis.edu/green.