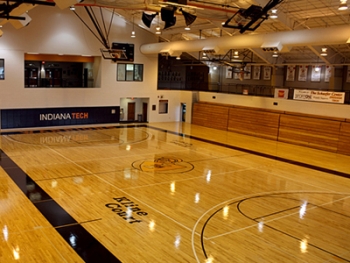 Lighting units in the Schaefer Center's Kline Court, where Indiana Tech's basketball and volleyball teams compete, will be retrofitted with LEDs. | Photo courtesy of Indiana Tech
The Indiana Institute of Technology, otherwise known as Indiana Tech, is committed to developing a fully sustainable campus.
Now, a $47,000 Energy Efficiency and Conservation Block Grant (EECBG) is moving the Fort Wayne, Ind. university one step closer to its goal.
Ninety-six lighting units in the Schaefer Center, the school's main campus gymnasium used by track runners, volleyball and basketball players alike, will be replaced with new light-emitting diodes (LEDs). The project is expected to save the school $7,800 and 102,000 kWh annually.
Matching funds
The Schaefer Center carries special importance at Indiana Tech.
On any given day, basketball players can be seen inside scrimmaging up and down the court while distance runners take advantage of an indoor track. But because lighting in the gymnasium was inadequate, student-athletes constantly complained.
"The competitions and practices were at a lower-quality because of the poor lighting," says Michael Townsley, director of facilities management at Indiana Tech. "Our athletic teams felt the lighting was becoming a real limitation."
The new LEDs will be installed in the Schaefer Center's track area as well as basketball and volleyball courts. The grant funds, which will be matched by Indiana Tech to complete the $94,000 project, were awarded as part of the American Recovery and Reinvestment Act (ARRA).
Townsley says there are two central reasons the grant benefits Indiana Tech.
"One is it allows for fans and players to better enjoy games and practices at the Schaefer Center," he says. "The second is that it reduces cost of the lighting installations in half. Without this reduction in cost, the project would not be realized."
As of now, Indiana Tech is putting out a request for labor to install the LEDs. The lights, which were bought from a nearby distributor, Wabash lighting, will be delivered in a 10-week process. Townsley expects the retrofitting to begin in early December and finish later that month.
Campus-wide sustainablity
The lighting retrofit in the Schaefer Center is only one part of a larger movement toward energy efficiency at Indiana Tech. The 3,500-student private college has incorporated sustainability into all of its recent building projects, such as the renovation of the campus administration building, which will utilize efficient design concepts, materials and technology with the hope of achieving LEED (Leadership in Energy and Environmental Design) Silver Level Certification.
Townsley says plans for another athletic center at Indiana Tech will include features to lower operational and energy costs, such as geothermal heating and cooling unit, low-flow toilets, sinks showers and tighter insulation.
"The project at the Schaefer Center is just another step in the right direction for us," says Townsley. "On every new project, we are working in sustainable ideas."