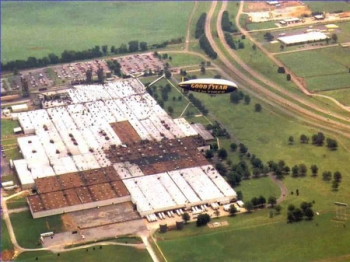 The Goodyear Blimp flies over Goodyear's tire plant in Union City, Tenn. | Photo courtesy of Goodyear
The Goodyear tire plant in Union City, Tenn., is saving energy, which helps keep the plant's operating costs down.
A Save Energy Now assessment from the U.S. Department of Energy in 2006 identified opportunities to improve the efficiency of the plant's steam system. Working with a DOE energy expert, employees, including Dennis Burden, an energy manager for Goodyear, learned how to analyze the plant's steam system and identify natural gas savings to improve efficiency.
"The program helped bring together plant resources to implement findings or assist in completing projects already in progress," Dennis Burden, energy manager, says. "Energy savings go directly to the bottom line, helping the plant compete in this global market."
Goodyear implemented DOE recommendations that have helped them save $875,000 annually in energy costs. Employees optimized boiler operations and developed a load management strategy shortly after the assessment was completed. They also insulated the tire presses and plan to start recovering wasted heat in the near future. Additionally, results from the assessment were deemed applicable to several other Goodyear plants and are being shared with those facilities, 60 in total, at monthly energy conference calls.
This story is also a large-scale example of how an independent energy evaluation can be useful and bolster energy savings among Americans in their own homes. By hiring an auditor to check for lost energy,
Americans can find problem areas and have their homes retrofitted to save money on their own energy bills.